2021 NFL draft predictions: Talent showcased is best in a decade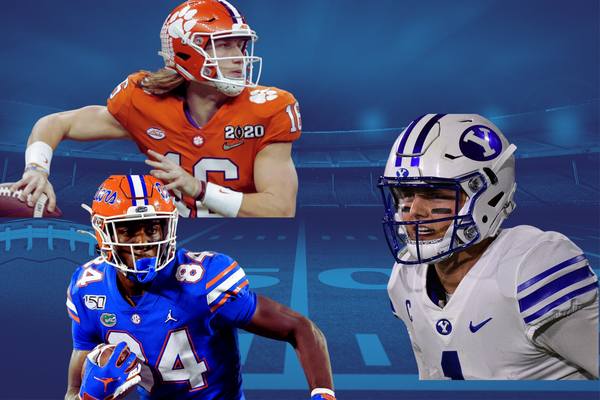 The NFL Draft. The three-day period that fans and teams have longed for since the Super Bowl. Starting Thursday, and going through May 1, NFL teams will make selections and trades with massive implications for the future. 
While uncertainty is a theme going into Thursday, there are a couple of guarantees. The Jacksonville Jaguars hold the first pick after going 1-15 in the 2020 regular season and have made their intention obvious. They want Trevor Lawrence, a star quarterback, out of Clemson University. Talent scouts can not find much of a flaw in his game. He has drawn comparisons to last year's sixth pick Justin Herbert, who now plays for the Los Angeles Chargers. Both players can move outside the pocket and have cannons for arms that make it impossible for teams to game plan against them. Trevor has an incredible football I.Q. and work ethic, according to his coaches and teammates at Clemson. These intangibles make Lawrence one of the best quarterback prospects ever. 
The second pick is also going to be obvious. The New York Jets plan on picking BYU standout Zach Wilson. The selection became clear-cut the second the Jets sent three-year quarterback Sam Darnold to the Carolina Panthers in a trade. The Jets acquired second and fourth-round selections in 2022 and a sixth-round selection this year in the move. Wilson has shown pristine accuracy while throwing on the run and can improvise when under duress. His quick release makes it difficult for defenders to hit him before he delivers the ball. While a knock on Wilson is the lack of competition he faced during his college career, it is nowhere near enough to negate his evident skillset. 
Tony Gonzalez out of Cal-Berkeley, Kellen Winslow Sr. out of Missouri, and Vernon Davis out of Maryland; three of the best tight end prospects of all time. One might have to include University of Florida tight end Kyle Pitts in that conversation in a few years. Covering Pitts is difficult because he is too fast for a linebacker and too big for a cornerback. Pitts possesses this unique ability that creates nightmares for opposing defenses. His mammoth six-foot-six, 240 lb frame allowed him to catch 12 touchdowns in eight games last year. The criteria are there for Pitts to be a franchise pass catcher and blocker for many years to come. Many analysts predict that Pitts could end up in several places. One place could be the Atlanta Falcons with the fourth pick, and pair him up with All-Pro wide receivers Julio Jones and Calvin Ridley. Another destination could be the Carolina Panthers, who have the eighth pick and dual-threat running back Christian McCaffery. McCaffery went for 1,000 yards receiving and rushing in 2019. Pitts will be a problem for opposing defenses wherever he goes, and it will be exciting to watch where he ends up. 
Teams to watch trading up or down are aplenty in this draft. The Denver Broncos, who have the ninth pick, have a glaring need for a quarterback. The Broncos want either Ohio State's Justin Fields or North Dakota State product Trey Lance. The Atlanta Falcons, who have the fourth pick, do not need a quarterback and are looking to trade out of that spot. The next team that could move up is the New England Patriots. With the 15th pick, they have many needs. A playmaking receiver/tight end is the most prevalent hole. The Patriots could make a move with Atlanta to move up to four. They could also trade with Carolina to get the eighth pick. The next team that could make a deal to move up or down is the Chicago Bears. At pick 20, and after a playoff appearance, the Bears need a quarterback. There are at least six teams ahead of them that need a quarterback. Even though they acquired Andy Dalton in free agency, the Bears have made the phone calls to move up.  There could be transactions to secure pick four from Atlanta, pick eight from Carolina, or pick 11 from the New York Giants. 
Teven Jenkins from Oklahoma State University, is going overlooked in the draft and an offensive tackle prospect. A late first-round projection, he possesses a ferocity that one notices with offensive linemen such as Quenton Nelson. During passing downs, he can win at the line of scrimmage by striking his hands and controlling defenders. On downs where his team is running the ball, he can create leverage points before meeting defenders. This ability allows him to generate momentum and finish at an above-average rate. While his lack of range may be a concern, there is no doubt that he is one of, if not; the best tackle prospects in this year's draft. 
The NFL Draft is an exciting time for all, and round one will begin at 7 p.m. on Thursday. 
Correction: Kellen Winslow II was originally referenced in the story. However, it was supposed to be Kellen Winslow Sr., not his son. Winslow Sr. also went to the University of Missouri, not Miami. We apologize for the confusion.