The cross country teams competed well at Aurora City Meet despite the heat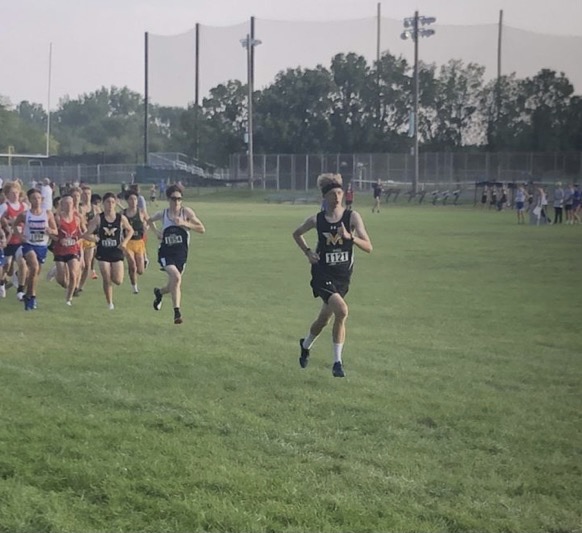 The cross country teams raced against other Aurora schools this past Saturday. The heat at Waubonsie made for a captivating meet that morning. 
The first race of the morning was the men's varsity. The gun went off right at 8:30 a.m., and the teams were competing for every inch, not willing to give any ground early in the race. 
Boys cross country head coach David Schumacher provided his thoughts on the competition at the meet. 
"I enjoyed this meet because it is a smaller meet, but the competition is always great," Schumacher said. "We have some work to do this year, but I left the meet feeling great with what our guys did and their efforts. With the heat, I was not as worried about the times but more about guys competing."
Leading the pack for the Metea boys was senior Ben Lamsma. He ran a 16:47 (5:36 per mile), which was good for first on the team and eighth overall. Schumacher had some excellent things to say about Ben's performance.
"Ben is a true example of when you do the right things every day, you see great results," Schumacher said. "I was not surprised by Ben's elite performance. I have seen him train hard every day for four years."
The first meet of the year provided paramount excitement for the season. Team culture was on full display, and the guys and girls were motivating each other every step of the way. 
"Running with the team helps motivate me, everyone works as one to get better together," Senior boys runner Hari Musunuri said. "Running alone does not give me that same motivation."
As the men's varsity race concluded, the women's varsity race commenced. Senior Keeley Behr led the team with a 19:56 (6:39 per mile), which qualified her for a third-place finish.
Senior girls' runner Hailey Finch was able to give some more recognition to the team aspect.
"It is nice being able to have so many girls come out and support you as you are running," Finch said. "[Running] is very mental and having the girls to cheer you on, it feels better, it feels nice."
The first meet of the season was a success. Both teams competed to the utmost of their ability. The sky is the limit as the teams carry on with their season.