Girls' volleyball keeps up their exceptional season with win over Waubonsie Valley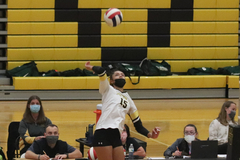 The girls' volleyball team went toe to toe with their rivals down the road, Waubonsie Valley last Tuesday. The Mustangs, who came into the matchup boasting a dominant 27-2 overall record and 5-0 conference record. They were vying for a continuation of their commanding presence over the DuPage Valley Conference (DVC).
The first game was filled with rally after rally from both sides, starting with a 6-0 lead from the Mustangs.
"We had some very aggressive serves during that run and our defense was amazing," Head coach Dave MacDonald said. "We were able to win the long rallies, and that helped push us ahead."
Then, Waubonsie went on a 12-9 run. Junior Kira Hutson and Senior Maura Pilafas, both of the team's top outside hitters, had a few kills each which put the Warriors to bed in game one.
Senior setter and opposite Regan Holmer was also a force to be reckoned with on the defensive end, putting up multiple blocks throughout the game. Holmer also remarked on the solid start in the first set.
"I think in that first set we started off pretty strong, which is something that we have a tendency to struggle with, so we went off on a six or seven point lead to go 6-0," Holmer said. "I think that was really critical for the rest of the set."
In the second set, it was all Mustangs. They blew the Warriors out of the water by a comfortable margin of 15, cruising to a 25-10 win. Sweeping the set gave them even more forward momentum.
"This group of ladies are never satisfied with their performance," MacDonald said. "They push each other in practice, and that competition carries over into our matches. They pull for each other and it does not matter who is on the court, you could really see that tonight."
With their win against Waubonsie Tuesday night, the Mustangs sit seventh in the state for girls' volleyball. With a record of 28-2, current seniors have come a long way and are enforcing their will on their opponents.
"My freshman year I was on varsity, and that was a rough year and then my sophomore year it was a little bit better, but we were still rebuilding, and we had a lot of like raw players as well as a lot of seniors," Holmer said. "Then, we have had a lot of seniors where we just struggled as a group, and we did not connect as well as this group does, so I think this group is just so much more dynamic, and we all bond together way better."
The team has a few more conference games against Neuqua and Naperville North. The Mustangs will host their senior night against Naperville Central next Thursday, and their regional tournament will start the following Monday.