Of all the District 204 high schools, Metea Valley reports the smallest amount of positive COVID-19 cases
A month into the reintroduced in-person learning school year, positive COVID-19 case numbers have begun to level off in recent weeks, after increasing weekly for the first month of school. In comparison to the other two high schools in the district, Metea Valley has reported slightly fewer positive cases. 
The most current information shows that Metea has reported 18 confirmed positive COVID-19 cases this school year. The district COVID-19 dashboard is updated weekly on each Monday afternoon. District 204 also makes use of data from the DuPage County Health Department and Northwestern University's seven-day positivity rates when assessing the safety of maintaining in-person learning.
Lisa Barry, the district's Executive Director of Communication Services, declined to comment for this story. The Metea Valley nursing staff also declined to comment. 
The district reports on positivity test rates and total new cases in the local community to determine overall transmission levels.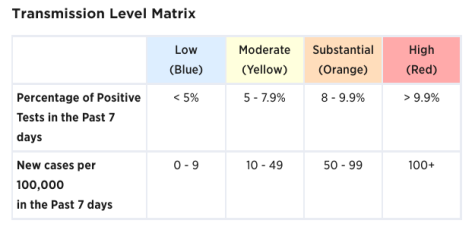 As of October 18, the current Indian Prairie School District (IPSD) transmission level is deemed to be "high" with an average positivity rate of 1.73% (low) and the number of new cases per 100k people at 101.36 (high).  This reflects a slight decline from the week prior, when the cases per 100k people was 117.44.
A low percentage of positive tests indicates that community testing is adequate enough to monitor the spread of COVID-19 cases. 
The number of new cases falling in the "high" category means that there is a higher frequency of new cases across the District in respect to the large population size. 
District 204 has 30,530 students and staff. Per the District 204 guidelines, mask-wearing and encouraging vaccination are extremely vital in controlling the spread of COVID-19. In Illinois, the mask mandate is still in effect through the mandate rolled out by Gov. J.B. Pritzker.
District 204 uses certain mitigation measures such as requiring masks to be worn inside, social distancing of either three or six feet, and self-certification monthly to better curb the spread of the COVID-19 virus. 
Metea students are adjusting to safety protocols the district is taking to limit students' exposure to COVID-19. 
"I think that precautions are really good for providing a safe environment," junior Isabelle Afshari said. "Social distancing is not necessarily followed all the time just because sometimes it is not possible, but we put in so much effort following this stuff that it does make me feel safe being at school, and I do feel pretty safe from COVID."
Despite students feeling relatively safe at school in regards to the pandemic, it seems that additional implementations and efforts, such as accessible sanitation tools and better social distancing, can be taken to further prevent the spread of COVID-19.
"I feel like it would be really good if we were able to make hand sanitizer more readily available around the school," Afshari said. "It would be really nice if we can just have hand sanitizer locations throughout the building, so you can have access to hand sanitizer for people who do not regularly carry it," Afshari said.
Additionally, certain aspects of the high school routine struggle to allow observance of some pandemic guidelines. 
"During passing periods it gets really crowded, so that's a concern," senior Vanshee Konduru said. The nature of students having to move around all at once every time the bell rings can make it difficult for social distancing to always be practiced.
Decisions leading to keeping schools open are dependent on how safe schools are, which is reflected in the number of positive cases. Metea held 16 total positive COVID-19 cases on Oct. 4. 
"I feel like at first I view [the data] as an insignificant number because 16 is pretty small. But, thinking about how it could spread super easily. Yeah, it is a bit worrying," Konduru said. 
Not every positive COVID-19 case is reported or detected. Some who are carrying the virus may not get tested, and others who have tested positive for COVID-19 may not always report it to the district. 
As of now, Metea has reported the fewest number of positive COVID-19 cases in comparison to the other high schools in District 204. Neuqua Valley holds the highest number of cases across the entire district at 29. 
When asked if parents or peers were aware of the district's data reporting, both Afshari and Konduru replied that their parents and peers, and even including themselves, had not known that such information existed and where they could find it. 
As the school year progresses, District 204 encourages students and teachers to do their part to keep schools open by following COVID-19 guidelines, staying up to date with the number of positive cases, and ensuring that positive cases are reported.