Boys' golf wraps up season on a high note and sends three members to state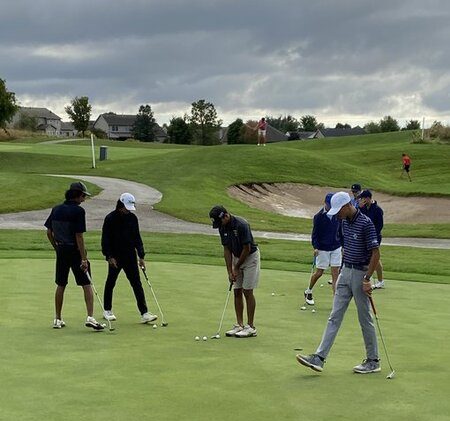 Stacked. That is the word that comes to mind when describing this boys' golf team. A team that sent three members to state, making a school record. 
The team sent seniors Aman Shah and Arjun Vyas, along with sophomore Kyle Bucher to state, all while having a dominant conference, regional, and sectional performance. Seniors Johnny Kerns and Elijah Oakes, and junior Patrick McGrath, also competed in regionals. 
From having no members sent to state to three, the team made a noticeable improvement. Head coach Patrick Brusveen accredited the core returnees with this newfound success. 
"Outside of just the overall improvement from last year to this year from our core returnees, we had a few players take huge jumps to provide scoring from other sources than were expected," Brusveen said. "Also, overall as a team we were just much more consistent this year from day to day." 
There were some early struggles with their first tournament, as they did not perform to their expectations. The team fought its way through and brought the thunder later on in the year. Senior and state qualifier Aman Shah talked about his mindset going into every tournament. 
"The most important part is asking yourself, [is] how much you will win by; as opposed to if you will win or not and being ultra focused," Shah said.
The athlete's mindset on the course translates from the team's attitude throughout the offseason. A positive approach and a determination for constant development can turn a team from good to great, as did the team during the offseason. Brusveen said it was the most vital factor in their success this past season.
"The biggest contributor to the success of the team this year was the players," Brusveen added. "Their attitudes, drive, and willingness to work hard at their games both in season and in the offseason."
The state competition took place in Bloomington, and on day one, Shah birdied (a birdie is when a player uses one fewer strokes than the par of the hole) in an 18, and Arjun Vyas shot a 73, which was more than enough to qualify for the following days. Kyle Bucher fell a few strokes, but he acquired invaluable experience to build upon in the future.
 "It was an awesome experience," Shah remarked regarding his first state appearance. "I loved heading down and playing at a nice course with coaches and teammates."
The development and drive this team has are unmatched. The work ethic the Mustangs have has turned this team into a force in the DuPage Valley Conference
"We were generally viewed locally as a program that had a few good players at a time, but were not really deep enough to compete at the highest level from a team standpoint," Brusveen said. "This group changed that, and in doing so they changed the expectations both externally and within the program."