Girls' cross country team falls short of state but sends two individuals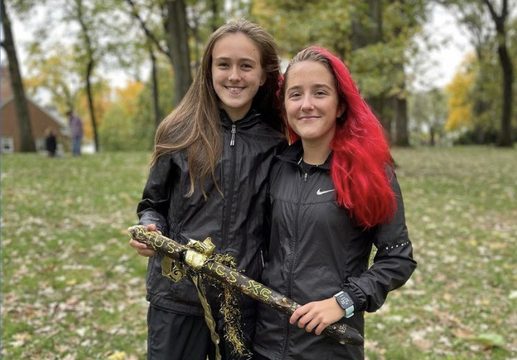 The girls' cross country team had a season for the ages. In a loaded DuPage Valley Conference, the Mustangs finished in third place at the conference meet. They then followed that up with a fourth-place team finish at regionals. The team followed that with a trip to Katherine Legge Park to race in the Class 3A Sectional this past Saturday. 
The conditions did not phase the girls' team one bit. As seniors Sarah Maggio and Keeley Behr led the way for the Mustangs with times of 18:25 and 18:45. Senior Elena Lehner was the third team runner, running a time of 19:25. Junior Taylor Poces-Bell followed with a 19:36 time. Three sophomores, Kamea Baker (20:04), Maya Hall (20:07), and Zoe Kirkman (20:22), made up the finishing Mustangs. 
"The biggest obstacle our team had was the fact that we had two front runners with a significant gap to our 3-5," head coach Eric Anerino said. "However, each week in workouts and races, and with a focus on pack running, we reduced that three minute gap to about 40 seconds. That took us from being a good team to one of the best teams in the state."
The team fell short of qualifying for state, as they finished eighth behind rival Naperville Central. Although only seven teams qualify for state, the top 12 individuals from the non-competing teams also qualify. Sarah Maggio and Keeley Behr were part of those 12 individuals. They will travel to Peoria to compete in the state meet on Saturday. 
Behr and Maggio have both had their eyes on qualifying for state for a while now.
"It was amazing to reach state this season," Maggio said. "Since the summer, I have been working very hard to better myself and achieve my goals. Breaking 18:00 in the three-mile and going to state was actually a goal that me and my teammate, Keeley Behr, made in our sophomore year. So it definitely is awesome that we both accomplished that goal before our graduation."
Behr and Maggio's successes qualified them for the state meet. Also, their successes made them great mentors and advocates for the younger athletes in the program.
"Keeley and Sarah's success represent our program's successes," Anerino said. "We take pride in the fact that, traditionally, it's our seniors who lead the team – each year, with consistency getting better.I think the younger girls look at them as good role models, and we are proud that they will represent the team down at Peoria."
Behr and Maggio will be competing at the state meet at Detweiller Park in Peoria on Saturday.