Girls' bowling earn first conference win of the season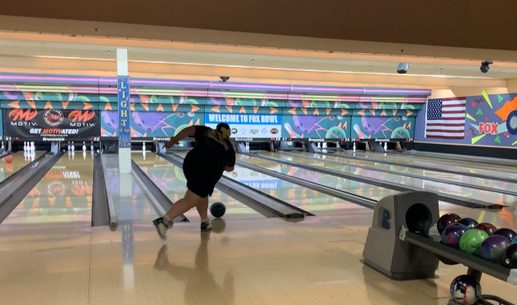 The girls' bowling team earned their first conference win of the season in a pin-rocking game over DeKalb, on Thursday December 2. Although the Mustangs began with a slow start, seniors Sydney Lewis and Jasmine Allen helped the team to victory with their score in the 600s. Lewis earned a 680 and Allen finished with a 608 after throwing her first 600 this last weekend. Ultimately the cheers, as well as, gaining confidence allowed Metea to come out top with a score of 2741 – 2112.
"The team got off to a bit of a slow start today, but then pulled it together and were able to make a lot of great plays, smart moves on the lanes, and ball changes as they needed," head coach Kristen Mansmith said. "The girls' are really great and coachable because they listen to what the coaches are telling them to do, which is such a key to our overall play."
The team including seniors Elizabeth Mansmith's, Lewis, and Allen against DeKalb had the highest-scoring match of the night giving the boost the Mustangs needed to win. Lewis, who was the highest scorer from the team each round put the girls ahead, ending the section of the match 1849-1286.
"I think I did really well," Lewis said. "I was impressed because I started out pretty slow this past week since it is also the beginning of the season. I was really happy with my performance today."
Cheering was also a large aspect of this match. Everyone chanted positive encouragement for players who were about to bowl and congratulated each other on their accomplishments while giving out high-fives. This allowed for the girls' to maintain their energy throughout the match and lift their spirits after the slow start they had in the beginning. Their positive attitude gave them the confidence over DeKalb to finish the match in a win.
"We are a big cheering team and love to keep the energy up," Lewis said. "When one person is struggling it is easy to get down on yourself, but we always try to lift each other up and always work really hard with keeping the energy up."
The girls' next match is against Jefferson High School in the J-Hawk Invite this Saturday.