Girls' lacrosse comes back and knocks off Minooka in back-and-forth affair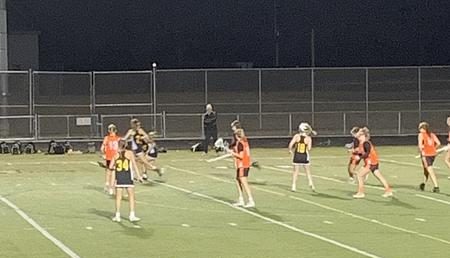 Metea Valley secured their first win of 2022 with a 17-7 win over Lake Zurich this past Monday. A 12-7 win over Minooka yesterday gave the Mustangs a real test against a non-conference opponent. 
"We look to build on our last win," Head coach Robert Woolwine said. "Minooka is going to be a tough challenge and we need to sure up our defense."
The team went down early in the contest, falling behind 3-1 at one point. The defense was committing lazy penalties early on that put the team in an awkward position, giving Minooka opportunities on the offensive end that they would not otherwise have had.
"We need to continue focusing on proper positioning and keeping the ball in front of us," Woolwine said. 
The Mustangs did just that, as they started what came to be a huge run. It began as a 4-0 run, then Minooka sent a laser to the back of the net to make it a one-score game. Metea would score twice before the end of the half, with a 7-4 score. A 6-1 run made for a colossal momentum swing in Metea's favor.
The coaches and the players play a critical part in a team's success. The coaches teach the players the fundamentals, and the players hold each other accountable. 
"The seniors have had a great impact although we only have four seniors, they have been in the program for four years," Woolwine said. "They know the expectations of them, so they relay our expectations. They're almost as if there are four other coaches that we have."
The next half started with a couple of lucky bounces finding the sticks of Metea and ending up in the back of the net. Four more goals in total made it a 10-1 run. Minooka started crawling back and went on a 3-1 run of their own in the last three minutes. It was not enough, as the Mustangs held on for a 12-7 win.
The girls' lacrosse team is off to a strong 2-0 start. They have two more out-of-conference games on Monday and Wednesday before starting conference play on April 4.