Girls' water polo devastates Schaumburg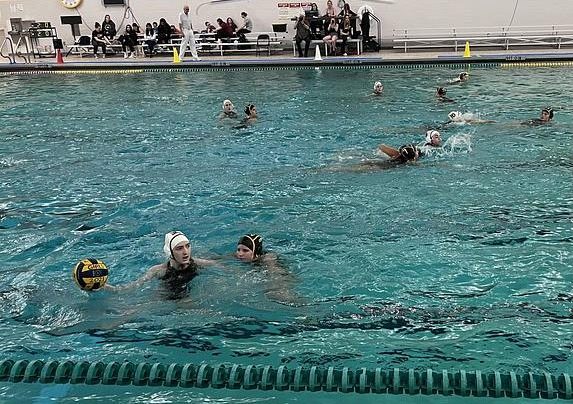 The girls' water polo team showed a tremendous game after playing against Schaumburg this Monday. The team came into this game following being undefeated in their home tournament this weekend. They continued their win streak against Schaumburg, finishing with a winning score of 21-4.
"I think the team did a great job of communication and team playing throughout the game," junior goalie Aarushi Kaul said. "We did not have anyone being selfish or being the only one that wanted to take shots."
The Mustangs started off strong and showed their strength for within the first 15 seconds of the game they put themselves on the scoreboard. Their fast offense skills and driving allowed them to continue earning goals. The girls' were able to score three points before the Saxons could earn one point, finishing the quarter with Metea leading 6-1.
The second quarter began with the Saxons starting to trail the Mustangs as they scored two points. However, by the middle of this quarter, the Mustangs were able to score putting them 8-3. Metea still had a strong lead against Schaumburg with a score of 10-4 by the end of the first half of the game. 
"We had really great communication, especially in the second half," Kaul said. "We were calling for the ball and announcing what we were doing, which makes playing as a team infinitely easier. I communicated well with my team and blocked as many shots as I could, so I think I played pretty well." 
Following half-time, the Mustangs continued to dominate putting one goal in after another. The Saxons tried to keep up by using multiple halftime to re-group, however, they were no match to the Mustang's strength and stamina. By the end of the third quarter, the girls' were up by 10 points. As they entered the fourth quarter the Mustangs finished this game strong putting a total of seven points on the scoreboard and letting in zero goals from Schaumburg. The game ended with the Mustangs winning 21-4.
The girls' next game is their senior night against Hinsdale Central this Thursday.