Dunkin's recent advertising strategies are effective but questionable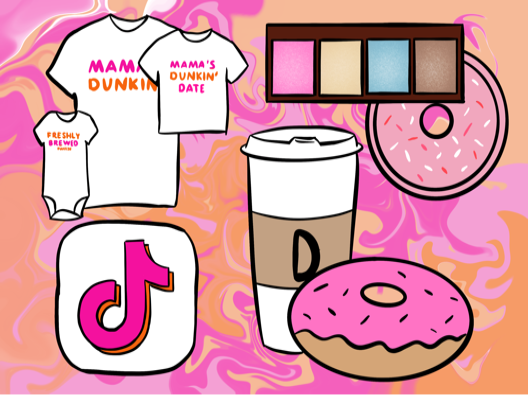 Coffee and donuts are not all Dunkin have to their name. Earlier this year, Dunkin released a small makeup collection with e.l.f cosmetics, and last week another collection with the clothing brand, Carter. Both collections have been a success. Influencers across Tik Tok are in love with the products from the e.l.f cosmetics collaboration meanwhile Carter's collection is already sold out. At first glance, these two collections seem questionable, but both have Dunkin fans excited about the brand itself. 
It is common for brands to collaborate with one another. Dunkin's collaboration with these brands, in particular, was a questionable idea at first. Both collections though have been receiving positive feedback from Dunkin fans. 
For e.l.f cosmetics though, this is not their first collaboration with another company. Their last collaboration was with the burrito bowl headquarters, Chipotle. The now sold-out collection featured a chipotle-inspired eyeshadow palette, an avocado sponge set, plumping lip gloss, and a Chipotle chip bag-inspired makeup bag. 
Elf launched another makeup collection now with Dunkin. This makeup collection is the first interesting marketing strategy that Dunkin has done this year. The collection features five Dunkin-inspired products, the first one being the dozen eye shadow set, the donut forget putty primer, glazed for days duo lip gloss set, a coffee lip scrub, a makeup bag in the shape of a munchkin box as well as a donut-shaped face sponge. The collection is available to purchase on the e.l.f cosmetics website or at the Ulta Beauty website or stores.
In a news post on Dunkin's website, the company introduces the makeup collection, Peter Callaro who is the Vice President of Integrated Marketing Communications of Dunkin said: "We have long admired the genuine connection e.l.f. has forged with their community and believes it mirrors the connection we have with our Dunkin' fans." 
E.l.f cosmetics overall is a good brand with affordable prices for their products. Their power grip primer and items in their putty collection have been widely talked about by multiple influencers on the social media app, Tik Tok. 
Within the past years, a common way for brands to promote their products is by having public relations send (PR) packages which are full of free gifts sent to influencers, or celebrities in hopes of promoting the products on their social media platforms.
Mikayla Nogueria, who is the official e.l.f x Dunkin ambassador and famous makeup influencer on Tik Tok, made a statement in the same news blog saying: "These are legit two of my favorite brands of all time and I could not be more amped to have the chance to tell the world about this makeup collab!" 
Following that collaboration, last week Dunkin released a capsule collection with the clothing brand Carter. The shirts were made in adult sizes for parents as well as shirts and bodysuits for babies and toddlers. The sold-out collection must have been a fan favorite for families.
One of the designs of the t-shirts says "Mama Dunkin", and "Dad Dunkin" in the same signature font and colors as Dunkin's logo. The items range from $18 to $26. For a plain t-shirt, $26 seems pricey, but the bodysuits were a cute idea for babies to wear. The shirts compared to the Dunkin and e.l.f makeup collection the individual products range from $6 to $22 with the makeup bag being the priciest. 
The makeup launch was a brilliant idea to combine makeup and food. Besides the packaging, the products in the Dunkin collection are quite similar to e.l.f original line of products. The Carter collection though is quite questionable. The shirts and bodysuits for babies and toddlers are cute, but the adult shirts are not worth the money. The shirts look like a project someone could do themselves at home with a white tee and colored letter patches. 
Besides these collections, Dunkin is taking a different approach to finding actors for their next ad. On the social media app Tik Tok, the brand posted a video called the Dunkin cast call. Dunkin's account on Tik Tok is verified with 3.1 million followers. Dunkin and other companies have taken advantage of Tik Tok, and other social media platforms to post fun engaging videos to promote their brand and products. 
Social media ads are an effective way to advertise since brands are able to get their target audience to see them through app algorithms. These ads allow brands to promote themselves to customers in an easy and effective way.
The video on Dunkin's account about the Dunkin cast call describes looking for people to be in their next ad. Aspiring actors can audition by dueting the video and saying the lines that appear on the screen. Tik Tok is a massive platform for people to share their talents, so it is natural that people who want to get into acting are taking this advantage to get recognized. 
Representing a brand is an advertising strategy that is seen all over the internet with celebrity endorsements on television commercials. When someone finds their favorite coffee chain collaborating with a makeup brand, it is a no-brainer that they will want to purchase the products.