Boys' volleyball finishes a record breaking season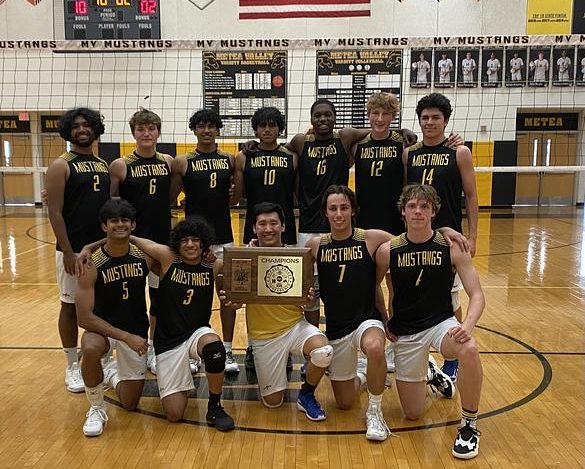 The Mustangs finished off their season playing in the regional finals against Hinsdale Central this past Thursday. The boys' came into this game after winning their first DVC championship in program history and winning both regional preliminary and semifinal games against IMSA and St. Francis. Although the team was not able to make it past the regional finals after losing 27-25 and 25-23, the boys finished off their season strong.
"We ended up 28-10 for the season, [and] 7-1 in the conference playing against some very strong teams," coach Darren Honda said. "We also finished No. 21 in the state." 
The team was able to make history this school year as they won their first DVC championship against Naperville Central on May 19. Seniors Aidan Murphy had 31 assists, Chad Luckinbill had eight kills and seven digs, Zolboo Amgaabaatar had 10 kills, Laurynas Kanopka and Marco Palczynski had five kills each, and Chandrahaas Duggirala and junior Robert Stewart had four kills each.
"Our varsity, freshman A, and B team won the DVC conference, the first in school history for our boys' volleyball program," Honda said.
Moving on from the DVC conference, the Mustangs competed in regionals. The team was seeded No. seven out of 27 overall in the Hinsdale Central Sectional. They started off playing against IMSA in the prelims where the team won 25-12 and 25-5 on May 24. Moving on from the prelims they next competed against St. Francis on May 26. The team was able to win after three sets losing the first one 25-21 and winning the next two 25-13 and 25-21, advancing them to the regional finals.
"Going into regionals was about getting the team mentally prepared and game ready as well as staying healthy and competitive," Honda said. "We wanted to be playing our best volleyball as the season winded down. We also scouted other teams to go into matches with a strategic game plan."
The regional finals put the Mustangs up against the No. two seeded team, Hinsdale Central. This game was a tough one for the Mustangs as they just fell short by just two points in both matches, 27-25 and 25-23, ending their season. Although the team could not make it to sectionals, the boys' finished the season with exponential achievements. Murphy, Luckinbill, Amgaabaatar, and junior Bartosz Chmielewski were named all-conference.  Stewart was also named Honorable Mention all-conference. Along with earning all-conference, Murphy and Amgaabaatar broke school records. Amgaabaatar set the new record for season digs with 337 and Murphy set the new record for assists with 873.
"While it would have been nice to win the regional title, we played one of our best matches against a very good Hinsdale Central, ranked No. five in state, team," Honda said. "We battled and just fell a little short. We met all our goals, rebuilt the program, numbers and talent, and [we] had 105 players try out [which is] double the normal numbers."