Boys' tennis sends three members to state after a successful season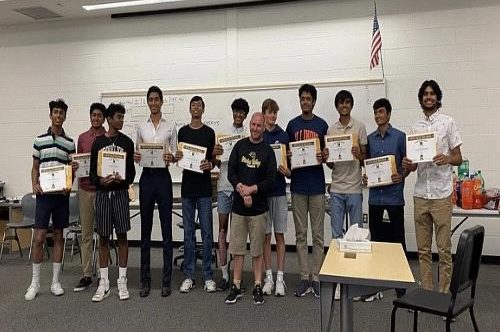 On May 27, Senior Nikunj Tyagi, junior Aadit Gandhi, and sophomore Akshay Baid qualified for the state tournament at Hersey and Glenbrook North high schools. 
How those three individuals got there is no small achievement. The season started on April 11 against St. Charles East. The Fighting Saints could not even muster a single event win against the Mustangs, as Metea came out with a clean 7-0 sweep. Gandhi, senior Varun Ramprakash, and sophomore Jack Jordan came away with singles' wins. And the doubles' wins were attributed to Tyagi, Baid, juniors Jash Kadakia, Pranav Swaminathan, Sailesh Senthilkumar, and freshman Mihir Arya.
The Mustangs followed that win with another one on April 16, at the Lincoln-Way Central Invitational. Head Coach Kole Clousing motivated the team throughout, bringing home the first-place plaque in the process. 
"Coach Kole has been instrumental in the team's successes over the years," Ramprakash said. "He gives great advice both during practices and matches, and he has been a big part of why the team has done so well the last couple of years."
Conference rival Neuqua was next on the docket. The Mustangs had not defeated the Wildcats in the past four years. Tyagi and Baid capped off the afternoon with yet another doubles' win, snatching the overall victory from the Wildcats in two sets. 
"My love for the game comes from my fierce competitiveness," Tyagi said. Every time I am on the court I need to win and I will do anything to get better."
The Mustangs kept the ball rolling with a massive win of 5-2 against Lincoln-Way East on April 22. Gandhi, Ramprakash, and Jordan earned single wins, and the duos, Tyagi and Baid, as well as Arya and Senthilkumar, won double points.
"We have great team bonding and are not afraid to give constructive criticism," Tyagi said. "We have all improved as players this year."
Another win at the May 7 Naper-Valley invitational prepared the Mustangs well for conference on May 13. Kadakia and Swaminathan would take home the doubles' win against the rest of the conference.
The following week, at Naperville North, sectionals took place. Gandhi secured a win in the singles' event, qualifying for state. The Tyagi-Baid dynamic duo won their doubles' event moving onto state.
While their efforts came up short at the state tournament, it was still an extremely successful season for the program.