Monkeypox on the rise in Illinois
The world has yet another public health emergency. Monkeypox is a new virus that is thought to have originated in Central and West African countries. The source of the disease remains unknown, however, studies show that it could have originated from non-human primates or rodents. Monkeypox is not an STI, as any person regardless of their sexuality, gender, or racial or ethnic background can contract and spread the virus. This is a public health issue as there have been 5,800 total cases throughout the United States, and 520 cases alone in Illinois.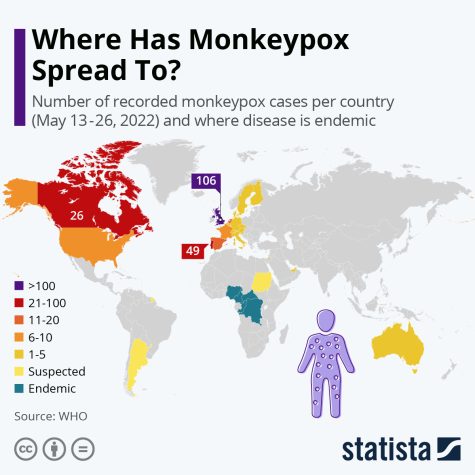 How is Monkeypox transmitted?
According to the CDC, Monkeypox is often spread through close, personal, or skin-to-skin contact. This includes rashes, scabs, or body fluids from other people, touching objects, fabrics, respiratory secretions, and intimate contact. Other infected animals can spread the disease through scratching and biting or eating an infected animal. Anyone who is infected can spread the virus from the time symptoms start until the rash has fully healed.
How will you know if you have Monkeypox?
Monkeypox symptoms start within three weeks of exposure to the virus, and rashes may develop from one to four days later after experiencing possible flu-like symptoms. These rashes can then spread and become lesions which fall off as scabs later and heal. The illness lasts for approximately two to four weeks and although there are many symptoms, not all may occur while having this virus.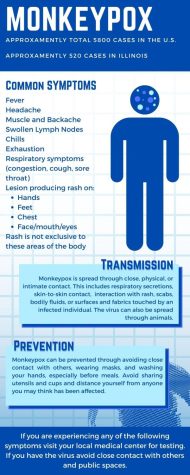 How can we prevent future illnesses?
Wear a mask in public spaces and distance yourself from those who you may think are infected. Wash your hands regularly, especially before meals. Avoid sharing utensils and cups with anyone who you think may be infected. Avoid close and intimate contact with others. Try not to touch different surfaces, clothing, bedding, towels, or anything else that may have come in contact with someone with Monkeypox. Avoid rodents and primates, as well as sick or dead animals and the materials they may have touched.
If you think you have Monkeypox, avoid close contact with others and public spaces, and wear a mask and gloves if you need to go into public places. If you are experiencing symptoms, visit your local medical center or your healthcare provider for testing, even if you do not think you have been in contact with anyone with Monkeypox.
What steps can we take to protect ourselves from possible sickness?
There are currently no specific treatments for this virus, however, Monkeypox and Smallpox viruses are genetically similar. Currently, antiviral drugs and vaccines developed to protect against smallpox are being used to prevent and treat Monkeypox. Tecovirimat (TPOXX) is an antiviral drug that is best used for people who have weakened immune systems. Vaccines can be given before or after exposure. Currently, two vaccines are being used to prevent Monkeypox infection; JYNNEOS & ACAM2000. Both vaccines are approved by the FDA for use against Monkeypox. There are more ACAM2000 vaccines available, however, it is notable that this vaccine should not be administered to people who have a weakened immune system, skin conditions like eczema as well as women who are pregnant or infants under 12 months old.
The immune response takes place about 14 days after a second dose of JYNNEOS and four weeks after ACAM2000 for max development. JYNNEOS cannot be given to a minor under 18 without authorization from the FDA and is void of the problems ACAM2000 could potentially cause.
So far, around 336,710 doses of JYNNEOS have been delivered to the United States and given to jurisdictions that are currently struggling against Monkeypox.