Leaking content online benefits no one
Grand Theft Auto 6 (GTA 6) is a highly anticipated video game that is not releasing for at least another two years, yet the game was leaked online with 90 clips of gameplay on Sept. 18. This is one of the biggest security breaches in video game history. The culprit is reportedly a 17-year-old, whom the London police have since arrested. The suspect was able to gain access to Rockstar Games' internal networks and got away with loads of unfinished development footage of the game. These videos exploded online and had a divisive reception. 
"We recently suffered a network intrusion in which an unauthorized third party illegally accessed and downloaded confidential information from our systems, including early development footage for the next Grand Theft Auto," Take-Two Interactive and its subsidiary Rockstar Games formally addressed the situation on Twitter. 
Rockstar Games then assured that while this was a major disappointment, their work on the "next Grand Theft Auto will continue as planned."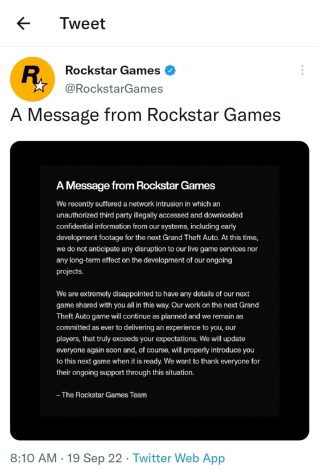 Graphics are not the priority for the majority of early video game development. Elements like in-game systems and missions are made first and are progressively polished as development continues. People who did not understand this complained online about the visuals of GTA 6 in the leaked footage. Yet, these leaked videos are likely from an early development build that may be up to two years old. These videos do not exemplify the final game. 
The leaker soured the anticipation of an official reveal for the audience. As a result, this caused a headache for the developers who already have existing stress to meet the sky-high expectations of fans. The leaker was arrested because Take-Two Interactive's lawyers do not mess around which leaves no one benefiting from this occurrence. 
The negative reception to these leaks falsely claimed that the visuals are one of the first things done in game development, accusing the leaked footage to be representative of the final product. This is not only the opposite of how game development works, but these videos were also never meant to be seen by the public.
Yet, something wholesome came out of the mess. 
Video game developers from all levels of budget and fame came together to counter this arrogant misconception by sharing what their now popular game looked like in its early stages. Moments of unity against unwarranted scrutiny on a scale this large is rare in today's social media. Developers ranging from small indie teams to big-budget AAA studios coming together turned out to be a nice outcome of an unfortunate situation.
Gallery Links
Horizon: Zero Dawn: https://twitter.com/cianmaher0/status/1572194481071599616 
Splatoon: https://twitter.com/farrens_ak/status/1572424850731601921 
Cult of the Lamb: https://twitter.com/cultofthelamb/status/1572300561072128000 
A Plague Tail: Requiem: https://twitter.com/KChoteau/status/1572575875304157190 
Uncharted: https://twitter.com/kurtmargenau/status/1572237112862441476