The Aspiring Health Professionals Club exceeds expectations for blood drive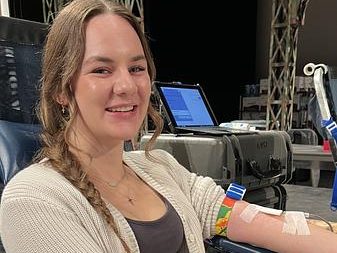 The Aspiring Health Professionals Club is a hands-on club that inspires students to take initiative in exploring the medical field. The club works to prepare students who are interested in pursuing health or medical careers. Members engage in many activities and events to spread awareness and participate in the healthcare environment they plan to go into.
"We educate our student body and the future medical professionals that are in the club. We do this by bringing in current professionals to give presentations and have conversations with our club members," club leader Lauren Reineking said. "We do basic training like learning how to take blood pressure and other first aid procedures."
Club members participate in lectures, debates, and advocate for general health. For mental health month last year, the club handed out suckers with messages educating students on the topic. 
Last Friday, the Aspiring Health Professionals Club hosted its first blood drive raising over 60 units of blood. Senior board member, Summer Leung believes that donating blood is crucial. "Donating blood is important because right now there is a national blood shortage. Each person who donates can save up to three lives." Leung said. 
The success of the blood drive has motivated the club to continue planning events. The club hopes to host a health fair in the spring to educate students on health-related topics and inspire them to join the club. 
Although the Aspiring Health Professionals Club has many members after just one year, the club is open enrollment and is looking for students eager to get involved with the health community.  
"We not only want to advocate for the health of Metea, but we want to also help individual club members to grow and gain perspective on what they plan to do in their professional life. We want the club to serve students who take interest in the medical field," Reineking said.
If you are interested in joining Aspiring Health Professionals, contact a health teacher and ask them to share the google classroom code for the club.