Girls' badminton sends six players to the state championship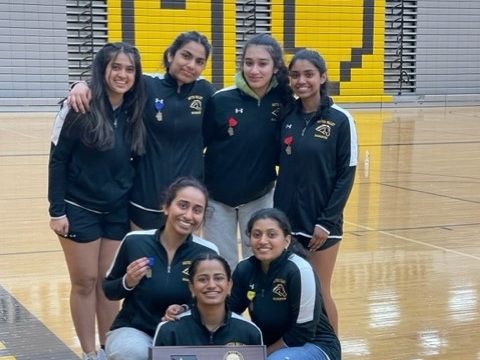 On Thursday, the girls' badminton team held sectionals at home, where all 6 of their varsity athletes competing qualified for state. This came after a second-place finish in the DuPage Valley Conference the previous week.
On April 27, the team traveled to Naperville North to have their top five doubles teams compete in the doubles conference. Going into the meet only a few points behind Neuqua Valley, the girls' failed to close the gap even though the pairs fought hard.
They then followed that up with the singles conference that Saturday, once again at Naperville North. This time, the team put up their top ten players in one-on-one games against the rest of the conference schools. Once again, after tough matches, the girls fell short of Neuqua Valley, placing them in second place, the highest the team has ever been ranked in program history.
With the freshman and JV teams both also placing second in DVC behind Neuqua, their season came to an end. Varsity's top six players continued to practice to prepare for sectionals, where it would be determined whether or not they went to state.
Doubles teams were made up of senior Anjana Viswanathan and junior Sri Lakshmi Battula, junior Riya Alwala and freshman Devangi Kohli.
Viswanathan and Battula found themselves facing Alwala and Kohli for their final matchup of the night, as both teams had gone undefeated so far. Both teams are also the top two at Metea, with Alwala and Kohli ranked second for Metea behind Viswanathan and Battula. The final game ended in a split with Viswanathan and Battula winning, 15-21, 21-15, 21-18. This put them in first place going into state and Alwala and Kohli in second.
"I have been looking forward to [sectionals] for the whole season because last year […] I played singles for Metea and now I get to play doubles," Battula said.
For singles, senior Tanmayi Sharat and junior Vamshika Bejawar were competing to secure their spots to state.
With Sharat losing to Waubonsie Valley's freshman star, Tisha Dubey, and Bejwar losing to Carissa Chen, IMSA's top player, in the semi-finals, both Metea athletes were automatically out of the competition for first and second places. This meant that if they did not win their next game, they would not be able to travel to the state competition. Yet, they both pulled through with Bejwar beating Celine Sutor from Plainfield North in a split and Sharat winning against Ashika Anand from Plainfield North in straight sets.
This meant that they both would be going to state regardless of the events from the rest of the night. Now, they competed against each other for the third and fourth spots. Bejwar placed third, winning in two sets, 21-19 and 21-9, leaving fourth place for Sharat.
Metea had won the most games and had the most players qualify for state at the competition. This gave them the sectional champions win, with 15.5 points, meaning that there was a 7-point gap between Metea and second place.
"Our state team is still practicing almost every day to get ready for state. This year, we are focusing our efforts on getting our mindset in the right place because, at the end of the day, this sport is a mind game," Battula said.
The IHSA Girls' Badminton state championships will take place on May 11. at DeKalb High School.