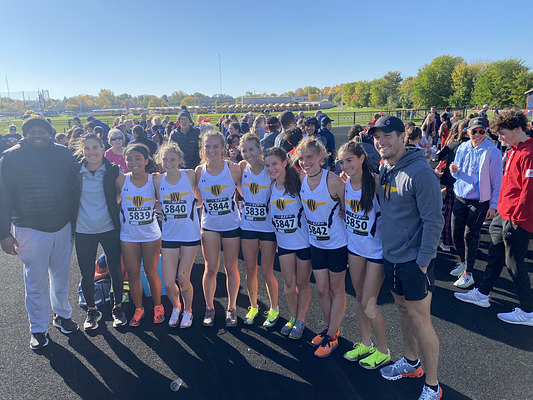 After another successful fall sports season for the Mustangs, many teams and athletes were able to represent Metea Valley in the IHSA playoffs.
Just a couple of years removed from their state title, the Metea Valley Girls' Volleyball team is once again storming into the postseason. Finishing the regular season with a record of 26-8 (8-2 in conference play) and a DVC title, the team aims to bring more trophies home. Defending home court in their Regionals, the Mustangs worked their way into the finals, defeating West Aurora in the Regional Semifinals in two sets, 26-24 and 25-14 Tuesday. On Thursday, the Mustangs hoisted the plaque, becoming Regional champions after defeating St. Charles North in two sets, 26-24 and 25-13. 
Sophomore setter Ashley Ward knows the importance of representing the black and gold on the big stage. 
"I always want to do my best and play my hardest to show what my team and school is capable of," Ward said. "I want to make my school proud." 
The Mustangs will travel to St. Charles North High School Monday night to face Glenbard West in the Sectional Semifinals.
This fall, the varsity girls' tennis team sent three players to state: senior one singles player Sangita Siva and junior one doubles team Sophia Cahue and Sarina Saleem. Battling rainy conditions, Siva lost a tough opening round matchup to the eventual runner-up but responded well with a win in the next consolation round. Siva would be knocked out of the tournament following a loss in the next round of consolation play. The duo of Cahue and Saleem won their first match 6-3 and 6-0, but unfortunately, their run was also cut short, as they suffered a pair of defeats in the next two rounds. 
"This season had lots of ups and downs, but the thing that has worked best for us is staying cool and staying positive and hyping each other up," Cahue said. "Tennis is usually a quiet sport but we make it not a quiet sport, and that's [what] makes it fun." 
Coming off an impressive 3-1 win against the Marmion Cadets in the Regional Semifinals, the Metea Valley boys' soccer team lost 4-3 to the Romeoville Spartans on Oct. 21. The Spartans scored a tap-in early in the first half. However, just moments after the Spartans scored, senior Michael Senese answered with a goal, assisted by senior Graham Leman, to end the first half. In the second half, Leman gets his second game assist to junior Sahil Khare, who slots one in the bottom left corner, breaking the tie. Later on, junior Cole Hatfield performs a give-and-go with senior Dylan Ferreira, then delivers a shot over the keeper to make the score 3-1. Unfortunately, the Spartans responded with 3 goals of their own, taking the Regional Final trophy. The Mustangs ended their season with 8-11-1 overall, and 3-2 in conference play. Their record certainly did not reflect the talent of this team.
The boys cross country team made history, qualifying for sectionals for the first time in program history. 
"There wasn't really a specific time goal [or personal goal] I was trying to hit this season," senior runner Rameez Abrar said. "This season my goal was more team-oriented, we wanted to make it out of regionals for the first time in school history."
Abrar's goal was met when the team placed 6th at the Naperville North regional. 
"Knowing I have to perform well for my teammates and knowing they will try their best to perform and trusting in the work I've put in all season helps keep me calm and ready before the race," Abrar said.
Though the entire team didn't place high enough to go to state, the historic season was capped off with Austin Brown placing 21st and advancing to the state meet.
The boys weren't the only successful Metea Valley cross country team this year, with the girls placing 7th in sectionals, qualifying for state as a team. 
"We're all looking to run personal bests, but as a team we [were] trying to score in the top seven teams in our sectionals so we can advance to state," senior runner Maya Hall said. 
Both the boys' and girls' cross-country teams have done a great job this year putting in the work and setting high standards for themselves. 
"It's really cool to be able to represent our school and represent everything our team has worked really hard for," Hall said.