Mustang of the Week: Assistant Principal Kimberly Maloney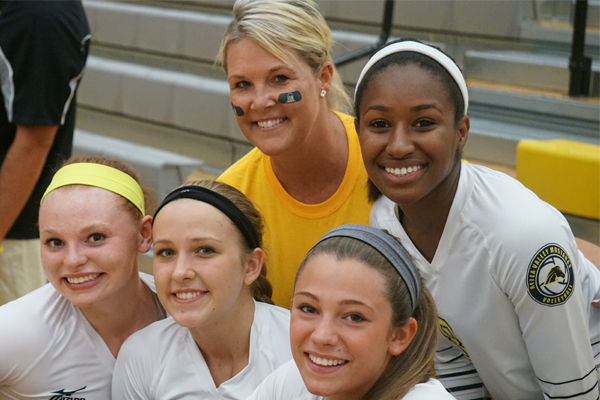 Hang on for a minute...we're trying to find some more stories you might like.
Before Metea, where did you begin your work in education?
I started in the Chicago Public School System, then I went to West Chicago High School, where I taught English, P.E., and driver's education. I was on the executive board for student council and coached volleyball, basketball, and softball. Then, I was a dean at Plainfield North High School, an athletic director at Hinsdale South High School, and then I returned to District 204 to work at Metea after spending five years at Gregory Middle School. (Maloney worked at Gregory before moving to Hinsdale South)
How did you decide to come to Metea?
I knew when the school was built because I was in the district when it first opened. Not only was Metea Valley the pride and joy of people who got to work here, but for our district as well. I knew I would come here and hopefully finish my career as a Mustang, and we knew some of the community members who my daughter played volleyball with at Sports Performance. I love everyday here, as I did every other place I worked, but I always knew I would be a Mustang.
What is your favorite thing about Metea and District 204?
(My favorite thing) is the people. There are so many excellent resources, no matter what your strength is, no matter how diverse our community is, there is always a resource. There is always someone saying let's be innovative, and trying to make our mark differently than other schools so we can hit all types of kids. Everyone realizes it is ok to fail because even if you fail, you will be able to try again because you have the support of everyone here. I hope that I can give everyone that support when they are brave and courageous enough to get out there and try something different that might be the best practice for kids. It's about the love. You have to love what you're doing, I want my teachers and staff to walk into this building and love the students everyday.
What are you looking forward to most for the school year?
Metea has such a diverse, yet family-like atmosphere – I can't wait to be a part of this. I can't wait to give my staff the resources that they need for student activities, to give the students the best experience they can have. I am looking forward to keep building this community stronger, and having some fun while we're doing it. I can't wait for homecoming or prom. Also, I can't wait for pep assemblies, they are always fun here.
What is the best thing about being an administrator?
I like to know I can spread my philosophy about engagement and teaching because if I can get four or five adults a week to buy in, it is not just me preaching my philosophy about loving what you do, being a better person, and helping people through, it is coming from multiple people. I also like watching teachers struggle through something, whether new teachers or veteran teachers, and then becoming successful. You have to be passionate about that risk and that unknown because if you're not, you should not be doing it.
What things would you like to bring to Metea as an assistant principal?
I want to be here to support the goals and the visions that our staff has. I am going to support you, and we are going to figure it out.
By Drew Danko                                                                                                                       Online Editor