Farewell Friday: Nick Baker and Danielle Schmitt, University of Alabama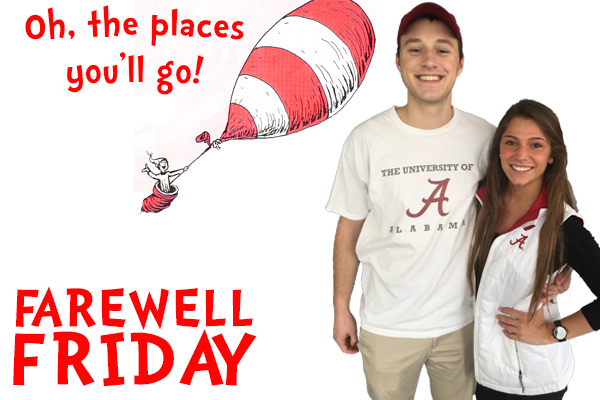 [quote]By Drew Danko
Online Editor
Graphic by Drew Danko[/quote]
Why do you want to go to Alabama?
Danielle: I want to go to Alabama because of the tradition there, how many great things I've heard about the school, and I am originally from Alabama, so I've always seen myself going there.
Nick: The campus is really nice, with all the tradition. The football team is great, it's a Division I sports school. Of course, school work, it's a good school academically.
What do you plan to get involved with at Alabama?
D: At Alabama, Greek life is huge. I'm definitely going to rush [a sorority] freshman year, I feel like it'd be a great way to meet a bunch of new people.
N: I plan on rushing [a fraternity] at Alabama and playing intramural sports.
What are you looking forward to most about Alabama?
D: As everyone knows, their football team is the best in the nation. I've been to a few of their football games and they're insane, it's a whole different atmosphere than football games are here. Greek life is awesome, and it's a whole new experience, rather than going to a school closer to home.
N: I look forward to meeting new people and experiencing the Southern culture.
What is a big tradition you're looking forward to partaking in at the school?
D: I went to the football games and just seeing the atmosphere of the student section, how pumped they were, and their cheers just made me feel like I was a part of it.
What are you planning on studying at Alabama?
D: I got accepted into the business school, and I'm probably either studying management or marketing. I love communicating with people, that's one of my favorite things to do. I think I could be successful with that in college. They have an awesome study abroad program that I'm looking into, and I've heard from several people it's a great experience.
N: I also plan on going into business, hopefully economics. It's like the science of the business word, seeing how people trade and interact.
What are you going to miss about Metea?
D: I'm going to miss the people. I feel like our senior class was like a family: we're all friends and we all know each other.
N: I'll miss all of my good friends.