Girls' basketball seniors honored on team filled with underclassmen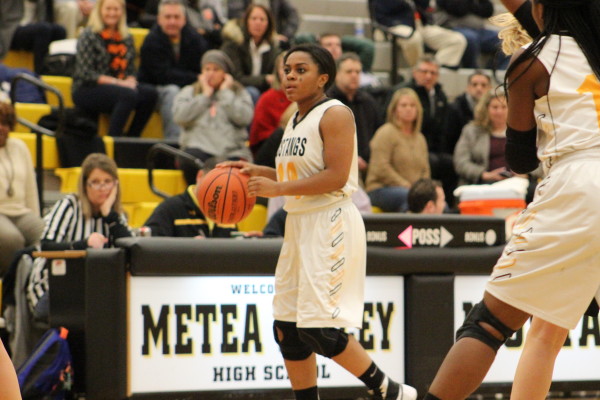 [quote]By Lucas Rhamy
Sports Writer
Photo by Madie Sandberg (MV Yearbook)[/quote]
No matter what, varsity seniors' ability to supply leadership, experience, and overall maturity are a vital part of any program, even if there are only two of them. Of the 15 players on the roster for the girls' varsity basketball team, Cheyenne Krehl and Meryl Barnes are the only two seniors. This past Thursday, these two players were honored in the girls' senior night game, coming out with a 42-37 victory over Wheaton Warrenville South.
It felt really nice to be recognized for all the time and effort I've put into the program for the last four years. They made me feel like I really made an impact on them as much as they have on me and I knew that all my hard work was worth it." Krehl saidl
Even though they are highly outnumbered by the underclassmen surrounding them, the seniors are still the leaders of the team both on and off the court.
"I love being a leader of the team. I like that they know that they can come to me with any problem they're having, whether it's basketball related or not, and I will always be there for them," Krehl added.
With Barnes commanding the floor at point guard, and Cheyenne scoring a dominant 10 points, including a clutch fourth quarter jumper to regain the lead, both seniors constantly set an example for the rest of the team.
"It's awesome to have an opportunity like this to set an example for my younger teammates. I constantly encourage them to put in work in practice and the offseason so we can play to the best of our abilities," Barnes said.
Although both seniors showed off their talents on Thursday, freshman Ashley Konkle finished the game with 14 points, leading the team in scoring as well as showing promise for the rest of the up-and-coming underclassmen.
"I strive to be someone the underclassmen can look up to and to get them excited for the years to come in this program. After all, they will be the next leaders of the team, so I'm doing my best to guide them in the right direction," Krehl added.