[quote]By Stephanie Sorich
Profiles Editor [/quote]
While everyone else was dreaming of their warm and sunny winter break vacations, I had one thing on my mind: Iowa.
Right before winter break, my  AP Government teacher told my class about an opportunity for the trip of a lifetime: to attend and observe the Iowa Caucus. For a political geek like myself and fourteen lucky others, this was our "We're going to Disney World!"
For those without the same addiction to following the presidential race, the caucus is  slightly different from Illinois' primary. Voters show up to the caucus and can change their votes after they've made it. The Republican caucus is slightly more like a primary because it is private, but the Democratic caucus is just like democrats themselves: out in the open and crazily pushing people to change. (In this case their vote, rather than… well, everything else.)
Before winter break came to us in all of its glory, I was already imagining the outfits I would be wearing when campaigning, the pictures I would get of the voters debating with one another, and meeting the man himself: Bernie Sanders (go ahead, flood the comments.)
The day finally came when I got the acceptance letter, and before I knew it my friends and I were on a bus headed to Iowa. We were excited, we were prepared, and oh my gosh we were in a cramped bus. But it would all be worth it.
And then we actually got there.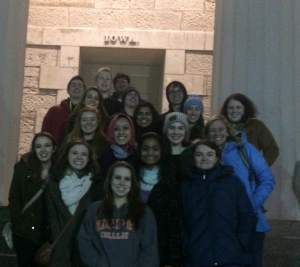 [quote]Photo courtesy of Stephanie Sorich[/quote]
At night, we attended a Democratic caucus, so we could watch the voters interact and supporters desperately attempt to convince people to vote for their candidate last second. I personally imagined a gymnasium with pamphlets and people running from one end to another, everyone hyped with the caucus vibe.
So imagine the large forum room, without the stairs, just a flat room. Then pack that room with 660 college students. Welcome to the University of Iowa precinct.
We sat on the floor against the back wall, to distinguish ourselves as observers when each party kept demanding recounts of the voters from other parties. It was, at least, twenty degrees hotter in that room than in the hall, and my phone died. (I know you were all on your toes waiting for pictures and Snapchats. I'm sorry to let you down, Metea Valley.)
At a point, one of the women leading the precinct left the room, and everyone erupted into choruses of "Veronica? VERONICA?" Apparently, people cannot calmly caucus without their good friend, Veronica. At one point while counting the votes, she asked what 500 divided by 10 was. Do we really want people like Veronica counting our votes, America?
However, though it was cramped, hot, loud, and I couldn't see over the college guys in front of me with their Bernie signs in the air, there's a reason the theme of the trip was "Democracy is a verb." There was no set procedure of the caucus, it was entirely run by the people: how to count the votes, how to separate into parties, and everything else.
And specifically in a place where we were surrounded by so many students that cared so much about what they were doing, I was finding myself still so excited by everything around me. Uncomfortable, yes, but excited.
Democracy is a verb, obviously not in a literal sense, but in the way that we choose to be a democracy. Though here at Metea we fight on Twitter, we debate in our classes, and feel like it's pointless and immature. Democracy is being able to share these ideas and talk about them with others. These ideas that we have now are the very things that we will use to shape the future of our country far sooner than we think, and if that's not cool, I really don't know what is.
We won't ever get to experience a caucus here in Illinois, but the idea is all the same. Our thoughts matter, and our choice to be involved and shape our futures matter. The caucus was, overall, nothing like I imagined, but the passion of the people around me was everything I could have hoped for.