By Prashant Shankar
Online Writer
Featured image by Qiyuan Zhou

The U.S. Presidential primaries and caucuses have kicked off in Iowa and New Hampshire, with diverse results that could change the course of the election. The Illinois primary election is not until March 15, so in the meantime, 258 sophomores, juniors, and seniors were polled from Jan. 29 to Feb. 5 on who they wanted as president. The margin of error for the Democratic results is 6.6 percent, while the margin of error for the Republican results is 8.1 percent.
*It's worth noting the margin of error doesn't account for undecided voters, likely making the MoE much smaller.*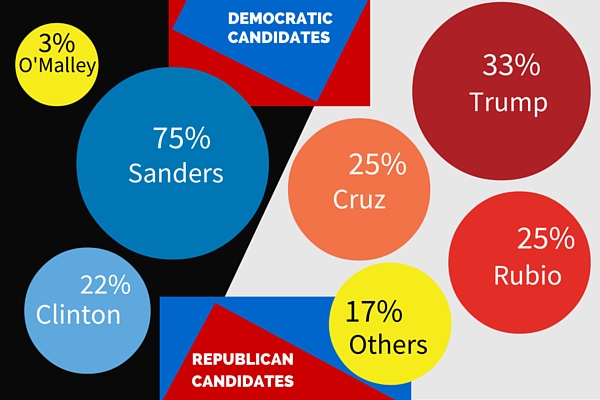 Overall voter graphic by Ana Bicolli

*Most polling was conducted before the Iowa caucuses, which is why O'Malley/Huckabee/Paul supporters still appear and count in the poll.*
Among student Democrats, Bernie Sanders holds a massive lead over Clinton and appears to be the clear millennial candidate. A 75 percent victory sounds unrealistic, but it's actually less than your average youth voter. In fact, in the Iowa caucuses, 84 percent of voters age 17-29 voted for Sanders, along with 83 percent in the New Hampshire primary.
The student Republicans seem to have a three-man race between them, with Trump winning marginally over Rubio and Cruz, who both tied. With the exception of Trump beating Cruz, the results are eerily similar to the Iowa caucus results.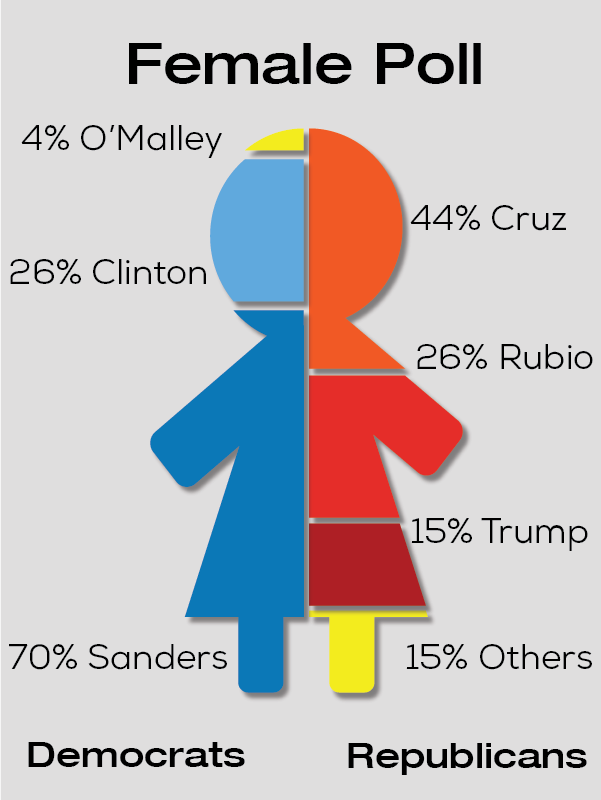 Contrary to popular belief, Sanders performed well with both males and females, only winning by 10 percent more with males. Meanwhile, Republicans clearly have a gender split. While Trump leads Rubio by 16 percent among males, Trump comes in third with females, with Cruz being their favorite candidate.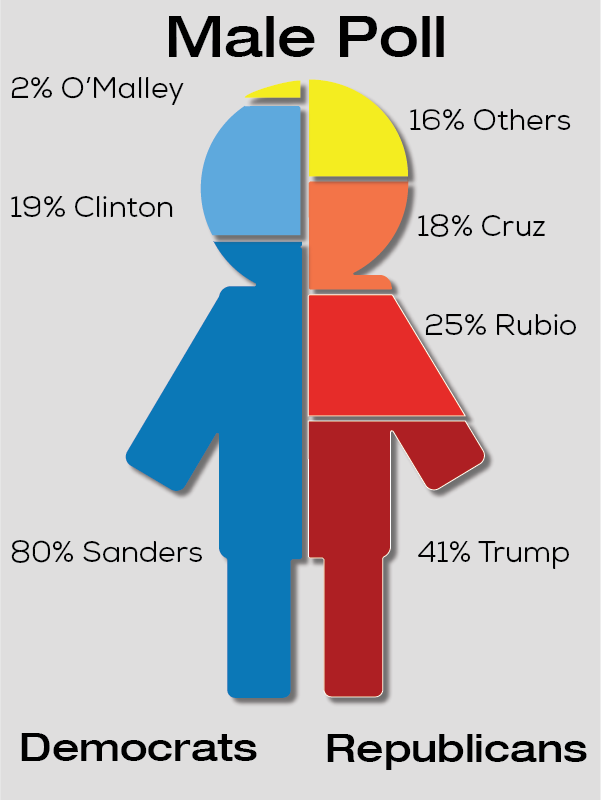 Male/Female Graphics by Qiyuan Zhou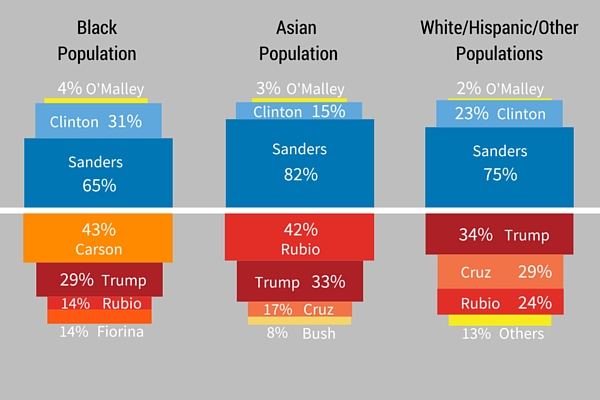 Race voter graphic by Ana Bicolli

*"Other" includes Pacific Islander and Multiracial*
Among Democrats, there's virtually no change of preference among race, with Sanders clearly winning in every category. Meanwhile, Republicans have three different favorites: Trump among whites/hispanics, Carson among blacks, and Rubio among asians.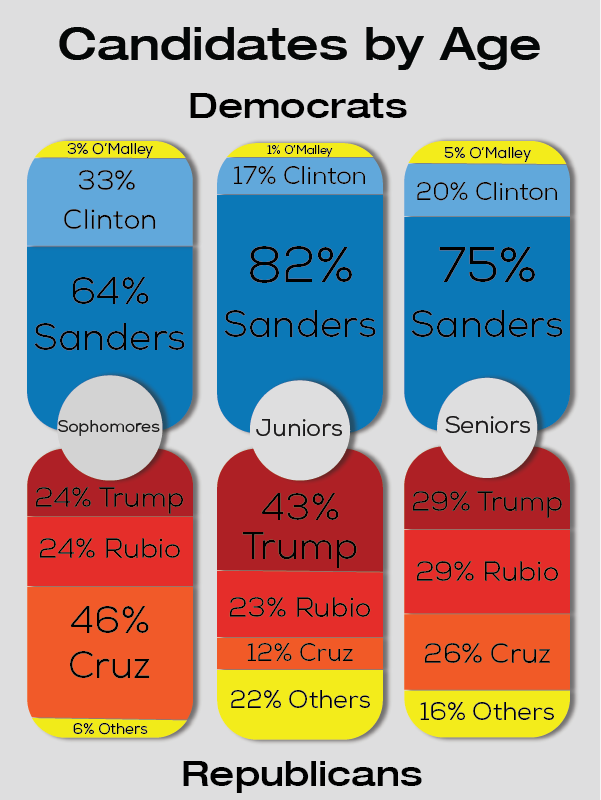 Candidates by age graphic by Qiyuan Zhou

There's still no significant variance among Democrats, and it seems Sanders trumps Clinton in nearly every category. It's not too hard to believe when you consider that Sanders won among every category in New Hampshire (with the exception of voters earning more than $200,000). However, seniors are fiercely divided over Trump, Rubio, and Cruz, while Cruz had his best results with sophomores.
[polldaddy poll=9306153]
After polling, Carly Fiorina and Chris Christie have suspended their presidential campaigns.