Ervin etches place in wrestling history book with second place state finish
[quote]By Drew Danko
Online Editor
Photos courtesy of Amy Toepfer[/quote]
Senior Dylan Ervin wrote his way into the wrestling program's history books by becoming the first wrestler to ever make it to an IHSA state championship match this past Saturday at Huff Hall at the University of Illinois at Urbana-Champaign. After winning the Naperville regional 5-3 and Batavia sectional 6-3, Ervin placed second in the state for the 3A 195 weight class.
Ervin was excited to take part in the grand march with the other wrestlers in the championship match. "It was unreal. I was happy [to walk in the march] because it was a sign of accomplishments. In the grand march, finalists walk around the mats and everyone sees and recognizes them," Ervin said.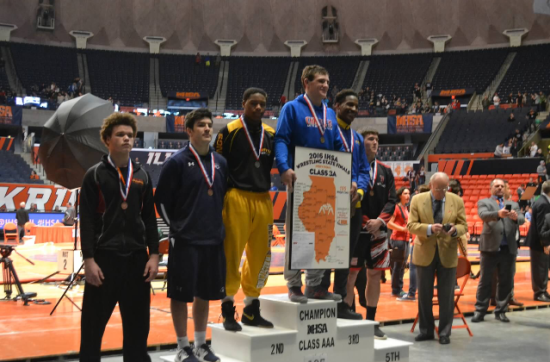 Despite winning both the regional and sectional championships, Ervin did not feel complacent going into the state tournament. "Although I won both, it meant nothing going into the state tournament. The state tournament is too tough. I've seen so many upsets and I didn't want that to be me," Ervin said. On his way to the title match, Ervin defeated three wrestlers at the state meet and four wrestlers between the regional and sectional.
Ervin lost in the championship to Christian Brunner of Dundee-Crown, who managed 31 pins this season. Ervin faced and defeated Erick Cole from Rock Island, Kendall McCoy from Oak Park – River Forest, and Matt Delong from Bradley-Bourbonnais to make it to the state championship.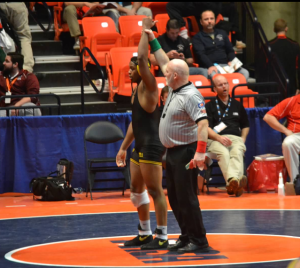 Coach Claudio Torres was proud of Dylan's performance at the state meet, and he is excited about what it means for the program. "He's very dedicated and has a great passion for the sport. It shows that the program is going in the right direction and that there are great things to come from Metea wrestling," Torres said.
Ervin is currently undecided on where he will go next year, but has already set goals for wrestling at the collegiate level. "I look forward to wrestling at the next level and winning an NCAA title," Ervin said.