By Prashant Shankar
Online Writer
Photos by Jack Heerhold
Seniors gathered in the auditorium on Tuesday evening to be recognized for their academic achievement over the past four years at Indian Prairie Scholars.
"[IP Scholars] is a chance for us to recognize students who've achieved a 3.6 GPA or better over seven semesters, and it's a chance to recognize and celebrate their efforts, because they're the best and brightest at Metea Valley," Principal Darrell Echols said.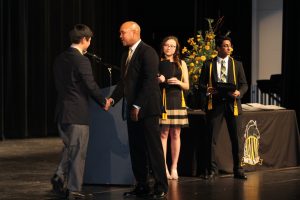 IP Scholars provides student the benefit of being recognized for academic success, which can become a valuable honor when it comes time to apply for colleges and universities.
"[The certificate] is sort of like a recognition of all your accomplishments academically throughout all four years," senior Ryan Adams said. "It means you put in the hard work to get where you are. It can look good on a college application, which is always something you need for scholarships and what not."
Seniors were enthusiastic about the award, and were proud of their accomplishments throughout their time at Metea Valley.
"It means a lot to me because of all the work I've put in the last four years here at Metea Valley; it's also a physical representation of who I am as a person," senior Bryn Zingrebe said.
While IP Scholars is a program for seniors only, it's not too late for freshman, sophomores and juniors to change their habits to become an accomplished student.
"I would definitely recommend studying, or finding time to do those things," Zingrebe said. "A big challenge for me was balancing my outside-school activities with my inside-school activities, so just finding time to do that homework or studying is something really great."
During the ceremony, IP scholar senior choir members sung the alma mater, while four freshmen were selected for the Passing of Opportunity Award presented by multiple seniors. Senior Conner Lovely nominated freshman Payton Thorne, Carlos Rubio nominated Emmanuel Hess, Amari Keller nominated Natalie Ollee, and Noelle Brandenburg nominated Mira Malavia.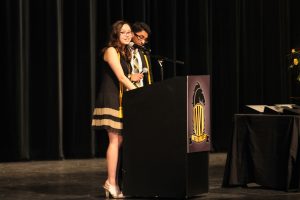 Senior Taylor Moran was proud to sing in front of her classmates at IP Scholars. "It felt kind of humbling because it's almost the last time I'm going to be singing it. It was nice to have all of the choir students up there, it felt like a sense of comfort and community, because some of us have been in choir together for four years. It was one of the first songs we learned freshman year, so it kind of brought me back," Moran said.