By Alicia Diaz
News Editor
Photos by Brittany Coates
The I AM initiative finished off its series of month long events with a panel discussion in the large forum room during lunch periods on Monday. The discussion, named "Opportunity, Education, and Justice", was led by four prominent members of the African American community to answer student questions.
The spotlight speakers were Crystal Cartwright – the Admissions Alumni Relations manager at Wheaton College, Alderman of Aurora's ninth ward Edward Bugg, Theodia Gillespie – president and CEO of the Quad County Urban League, and Deputy Chief Keefe Jackson of the Aurora police department.
"I wanted representatives based on the panel categories: opportunity, education, and justice, so I wanted a representative in the police force and in education," English teacher and I AM sponsor Robyn West said.
West was the brains behind the event and organized it with the help of three students who crafted the questions for the discussion.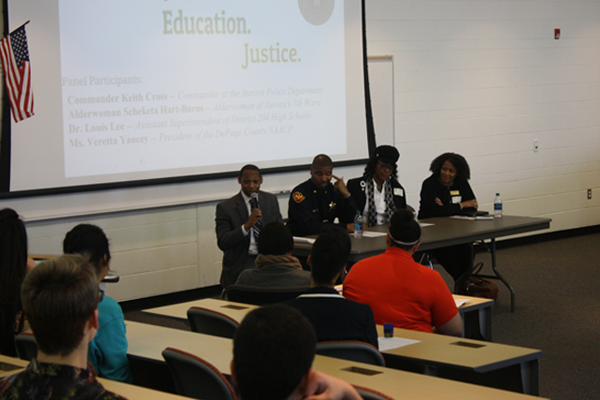 One of the students who asked the questions and helped to facilitate the discussion was senior Oke Metitiri. "I chose to participate in the panel because I thought it was a prime opportunity for me as a student and member of the Black community to get a different perspective," Metitiri said.
The questions they asked were aimed to be diverse and open ended.
"Just thinking about current issues related to those topics in Chicago and in our country in general, I just thought it would be a good discussion for us to have," West said.
The topics discussed varied from the achievement gap to the social media trend "#BlackLivesMatter" to the importance of mentors.
"We're all trying to make that road together," Alderman Edward Bugg said in response to a question on police brutality and a fear of police enforcement among the younger generation. "They are learning too and they are growing too."
The answers from the speakers all connected back to one central theme: equal opportunity. "Having equal opportunity to me among students means that everyone is given an open field to achieve what they want," Metitiri said.
West believed the discussion was successful due to the student involvement that was shown in attendance and through the questions asked. "The impact is for discussion to happen. I think sometimes students think it's easier to just ignore what's going on or they might feel ignored because there's no discussion so the goal was just to have one. And I think the goal was achieved," West said.