[quote]By Drew Danko
Online Editor
Photos courtesy of Brenna Shaefers[/quote]
How did you get started with ballet?
I got started with ballet when my mom enrolled me in a class when I was super little, I think I was only two. It was just an activity that she wanted me to try, and she never really enrolled me in anything other than dance because I loved it so much when I started.
How did you become more competitive and advanced with it?
When I was five, I met this girl who had studied at this ballet school. The whole idea of studying it more professionally, in a sense, really fascinated me. When I was five, I asked my mom to take me to this studio called Dance West and she enrolled me there. I wanted more of that professional atmosphere, because I started at the park district.
How is ballet different than regular dance?
All other forms of dance stem from ballet technique. Ballet has such a strong form of structure that all the other forms follow. So if you're a jazz dancer, you want to have ballet in your background because that is where you'll start from. It's like the primary form of dance.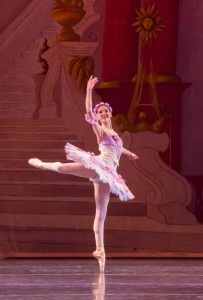 Why do you enjoy ballet?
I like the discipline of it. It's such a structured art form, there's such a technique toward it. I like the precision of it. There's so many classes you have to take in order to perform as well as you can. When I dance, I feel so passionate towards it. Classical music really moves me and the way I express myself is through ballet.
How often do you practice?
I go in six days a week and we have an hour and a half of technique class each day. Then sometimes we'll have an hour of point, which refers to the shoes ballet dancers use to stand on their toes at a certain level. Then we'll sometimes have up to three hours of rehearsal, it depends on the day.
Do you want to continue doing this in college?
My goal would be to one day major in something, dance or not, and train at a professional school at the same time. I would like to go to a college with a really reputable ballet school nearby and study ballet at a really high level, as well as college studies.