[quote]By Nirmal Mulaikal
Sports Editor
Photos by Brittany Coates[/quote]
While sports generally promote competition and provide entertainment for fans, the girls varsity softball team's annual "Strike Out Cancer Game" against Waubonsie Valley unified the Mustang community in support of DIPG research, a tumor that is currently inoperable and has no cure.
This year, the team was able to raise over $4000 in support of the Smashing Walnuts Foundation, which supports brain cancer research. Started three years ago by current senior Elise Titiner, the game has raised over $14,000 in total.
"For me, the Strike Out Cancer game is a way to make the game bigger than just a game. The cancer game really unifies the team. The fact that it's a rivalry game against Waubonsie gets us hyped enough, and then the cause that we're playing for just adds to our drive," Titiner said.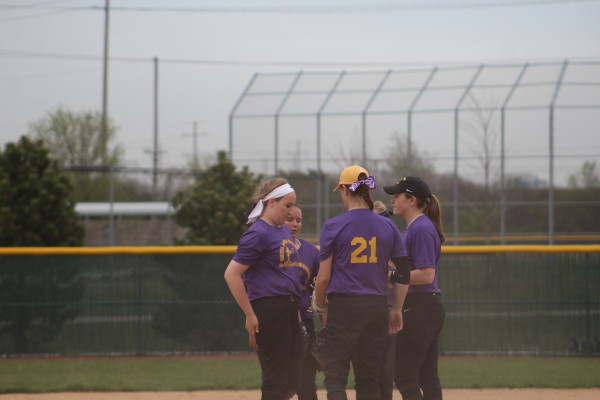 The game itself was intense, as Waubonsie won by one run, 4-3. Despite the loss, the girls understood that this game in particular meant so much more than a simple score. "I've learned that winning isn't everything, what and who we are playing for is the best part. Fundraising for the kids is what it's about, knowing that the softball program as a whole is giving back to those who need it is the most rewarding feeling for me," junior outfielder and catcher Hailey Bacani said.
As the season progresses and the team continues to compete, many of the girls expect the energy and support from this game to provide a humble yet determined attitude for the rest of the year.
"Coach K reminded us that we were playing for a purpose and that we couldn't give up and had to put up a fight until the very end, which we did," senior first baseman Megan Arcivar said. "It's an awesome feeling seeing family, friends and teachers out supporting us and the cause. This game is a reminder of how lucky all of us athletes are to be able to be playing the sport that we love."