By Drew Danko
Online Editor
Photo by Drew Danko
Numerous students were asked to put their shirts inside out, or find something to cover up their shirts Thursday morning due to sayings and designs that disrupted the learning environment. In celebration of Prom Friday, many students designed and wore shirts in recognition of the event.
Dean of students for The Class of 2016 Jennifer Rowe said that the groups of students who were asked to take off their shirts had references to alcohol and weapons, which violate dress code rules in the student handbook. Additionally, the shirts were distracting to students' learning environments. "[Dress code] is one of the big things in our handbook. Anytime it's looking at drugs, alcohol, weapons, or any type of slurs, it's not allowed by our student handbook. It's very difficult for teachers when they're teaching in the classroom when they have guns or grenades on shirts, it's not conducive to the learning environment," Rowe said.
According to the student handbook's dress guidelines on page 28 BP 7:160, "Students may not wear garments or jewelry depicting alcohol". Additionally, students are not allowed to "wear garments or jewelry with messages, graphics, or symbols depicting weapons".
The theme for Friday's Prom is "James Bond 007: The night never dies". In celebration of the theme, one group of students chose to create a shirt which had a gun. However, because of the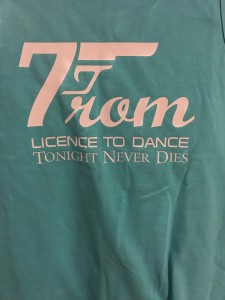 violation with the school dress code, these students were asked to take their shirts off. "I had to take off my tank top because the letters and numbers on it looked like a gun. I was pretty unhappy and I thought it was kind of hypocritical of [the school] because they approved the James Bond theme and guns are kind of associated with James Bond," senior Johnny Bertuca said.
However, Rowe explained that despite the theme is James Bond, some elements of the theme are not appropriate for the school environment. "We had Gatsby ball themed Prom, but it would probably be inappropriate for people to come in with bootlegged liquor on their shirts. There's so many themes that we can take thematically, but parts would not be appropriate for certain settings," Rowe said.
Senior Natalie Krasuski was told to take off her shirt, due to a saying that was deemed inappropriate by administrators and staff members. Krasuski complied with the teachers by taking off the shirt, but did not feel it necessarily violated the dress code, since it did not have any specific alcohol references or graphics on it. "The teachers misinterpreted it. I don't think it violated the dress code, unless there's actual alcohol bottles or guns, then that violates the dress code. I think if it's a saying it's fine, because it can be interpreted however you want it," Krasuski said. "I respect that they wanted me to turn it inside out, so I did as they told me because I didn't want to start any trouble."
[polldaddy poll=9402045]
Rowe explained that the school cannot allow shirts with alcohol references because of the dangerous repercussions that underage drinking can pose, especially during Prom weekend. "I have not experienced here in our district a loss during Prom from alcohol, but in my teaching career, I have. Where I have was from a school community that embraced alcohol. It was very sad," Rowe said.