Amanda Brennan teaches kids in need the power of music
Hang on for a minute...we're trying to find some more stories you might like.
Junior Amanda Brennan won a Girl Scouts gold award for teaching children who are homeless how to play instruments. Through detailed planning and months of hard work, she was able to make a difference in the lives of others and pull off something people don't see everyday. Her generosity was seen by many and was highly appreciated.
Why did you earn this award?
Girl scouting has been such a large part of my life since kindergarten, and I wanted to continue with it. I won my silver award in middle school and I wanted to win my gold award to keep that going. For my project, I taught homeless kids music at Bridge community, and since music is such a large part of my life (I play the baritone in band), I wanted it to be a big part of theirs.
Who and what inspired you to teach children who are homeless music?
My music teachers, just because they keep pushing me for success in music. I saw this problem and I really wanted to fix it, so my music teachers helped me. I wanted to give back, and it helped them, and my family also kept me going with it. My brother is involved in scouting and my whole family is so I easily got involved in it.
When you said you felt moved to do something, how and why did you feel moved and at what time in your life did see and feel this?
When I started my project, I wanted to do something with music and my mom has a friend that works at Bridge community and I sat down with him and he said 'hey how about a summer camp?', so I put the plan to paper. I started planning out lesson plans and I met with an elementary school teacher at Gombert, and I met with my own music teachers at Metea, and they helped me write the lesson plans. My band friends also helped me test the lesson plans, and we did it saturday mornings in July of my sophomore to junior with a recital in the end. I started in December of 2015 and the minimum required time was eighty hours, but I spent a lot more time on it than that. I observed a camp in June at Waubonsie which was similar to what I was bringing over here.
How was the experience? Was there an enlightening aspect to it?
I think the recital at the end was an enlightening experience for me.  When I saw everything come together, like the older kids (third grade and higher) playing "Mary had a Little Lamb" on the recorder and the glockenspiels (which the pre-schoolers learned), and them also playing "Mary had a Little Lamb", I thought it was really cool when the two groups came together to perform it. The little kids also had percussion shakers and recorders, and they also learned how to play other songs, so it was nice to see them all perform successfully. I also taught them a Russian dance called "Trika" that I learned when I was observing a music class, and these three little girls loved it and they wanted to keep going, so they performed it multiple times.
Would you do this again or mix it up a little bit or keep the same idea and do the same thing? (this idea can relate to community work)
I do community work all the time; I love being out in the community. I volunteer everywhere, even if I'm at Metea after school doing stuff for Tri-M and the Naperville DC (which is something I've been doing since I was little). I would do my project again if I had time, its just this summer I am so busy. I would still have the same lesson plan, now that I have the experience like what went well, what didn't, why I would change it, and how I would change it. For example, what didn't go well was having a younger age group. The younger age group ranged from four through twelve, so now I would keep it six and older just because the younger kids had shorter attention spans. Also, the older kids would want to keep working on one thing, while the younger kids wanted to keep on changing it.
What did you learn from this?
I learned a lot; I think especially teaching. I go to band every day and I just figure it's easy because teachers say 'let's play this!' and so on, but they have to make up lessons. With little kids, you never know how they respond to an activity, so you have to have backup plans, and it's also just making sure the kids are doing what they are supposed to be doing. I think learning how to write lessons the correct way and getting kids to listen to the direction factored into it, and just learning how to communicate and act like an adult is something I took away from this.
How did it feel to do charity work like this and how would you reflect on it?
It was very rewarding because seeing the kids' faces brighten up every morning when I was with them showed me that they were happy to see me and that they were happy to do music. It just felt rewarding, because when I gave to them, they gave back to me in that sense. Not a lot people can say they taught homeless kids how to play music, so the experience was so different. It was not just about the award, but that I was able to work with these kids that not a lot of people get to work with. I felt as though I made an impact.
About the Writer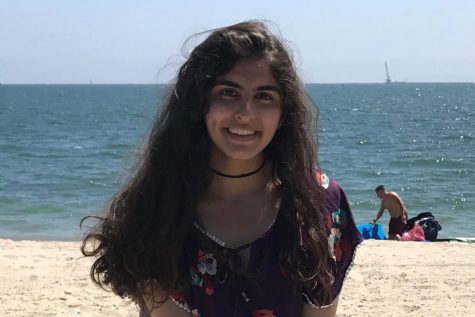 Zyma Lakhani, Profiles Editor and News Reporter
Zyma is a senior at Metea Valley High School and is a creative, thoughtful writer who enjoys a good nap or two here and there. She is a profiles editor...