Mr. DeBruycker on Student-Athlete Leadership Training
"When things are tough, when things are great, how do we handle success, how do we handle failure? What do we stand for? What do we continue to do?"
Hang on for a minute...we're trying to find some more stories you might like.
There's been one word on the mind of every student-athlete and coach this year: culture. How do we do athletics at Metea Valley? What does being a student-athlete mean? Athletic Director Mr. DeBruycker has some ideas.
Debruycker grew up in Batavia where he played high school basketball and baseball. He played four years of basketball at Aurora University, where he originally intended to be an accountant. But after spending a summer coaching youth basketball, he discovered his passion for coaching. Coming out of college, DeBruycker taught math before transitioning into a role as assistant athletic director at Crystal Lake High School. From there he became head AD at Oswego East, and is currently in his third year at Metea.
The athletic director hit the ground running when he came to Metea. "When I got here, one of my major goals and what I talked about was how to build that internal leadership from the athletes and build that out with the coaches as well," DeBruycker said. That manifested in his Student-Athlete Leadership Training team (SALT).
The idea for SALT first came from a conference at the Illinois Athletic Directors Association. DeBruycker saw what other directors were starting at their schools, and made that a reality at a Metea. A somewhat unique part of our SALT group is the "T" in the acronym. While other schools call it Student Athlete Leadership Team, DeBruycker calls it Training instead.
"We're all leaders in training, we're all trying to find a better way to become a good leader, a good role model for others," DeBruycker said. That idea of "leaders in training" guides his approach to athletics. Growth requires adversity, and athletics offer the ideal place to face that. You can see that everywhere: on the football team, who powered through and won their last game of the season; in the athletic hallway after school, as hundreds of student-athletes prepare for practice; and in the weight room, where off-season teams lift before school. Student-athletes at Metea tackle adversity every day, and that's by design.
"Leadership is not easy. It can be difficult at times, it's not all about being right and being liked. It's about doing what you think is right, and if you do that with care and love and passion, and make sure that everyone knows that you think you're doing it for the right reasons, then I don't think you have a whole lot to worry about," DeBruycker said.
SALT's impact can already be seen all throughout our athletic programs — but DeBruycker knows he'll never be fully satisfied. "I will always say I would like to see our culture change because there's always going to be some crevice, something in the corner that can improve," DeBruycker said. At SALT meetings, he talks about his own path to leadership, with all the struggles and triumphs along the way. The athletic director tries his best to embody all of the principles he advocates.
One of the next steps for Metea Athletics is outlining core values. For the athletic director, that means more than you might think.
"We've talked a lot about positive leadership, accountability, the word grit, and internal leadership. We've talked a lot about those, but I don't want to just throw those on a paper and say, 'here's what we're doing," DeBruycker said. "I want it to be how we live."
The process of defining these principles has been a long time coming, with all aspects and participants of Metea Athletics involved. "It's been collaboration with coaches, it's been collaboration with student-athletes at the SALT meetings and the captain's counsel, just discussing what we want to do as a program," DeBruycker said.
As our school has grown and evolved, so have our athletic programs and their culture. No one has been as instrumental to those positive developments as Mr. DeBruycker, and he is always going to striving to improve our athletics and our school. If you're a student-athlete, consider attending a SALT meeting. Any athlete can come to a meeting on Wednesdays after school in the large forum room. If you're interested in improving yourself and the people around you, you need to be there.
About the Writer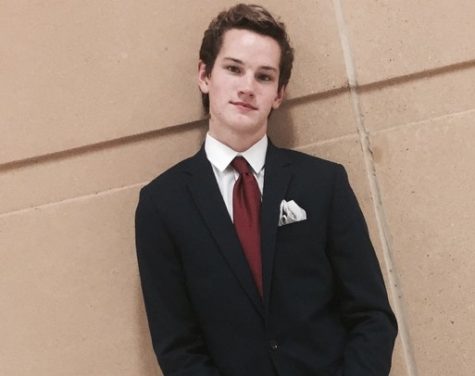 Tyler Burleyson, Sports Reporter
Tyler Burleyson is a senior and a new sports writer for MeteaMedia. His passions include classical music, jazz music, hip hop music, instrumental music, and talking about himself. If you want to talk about Tyler, find him on Twitter @burleysontyler. He's also a member of Metea's Wind Ensemble, an officer of Tri-M Music Honors Society, and a member of the Chicago Youth Symphony Orchestra.