Humans of Metea: Barnali Behari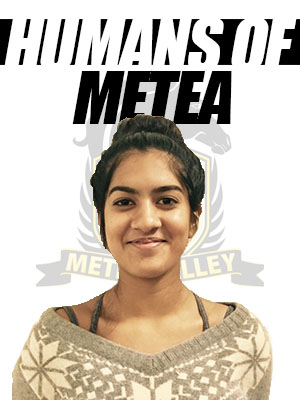 Graphic by: Trinity Powell
Barnali Behari, a sophomore, recently won the 9th annual Aurora Public Library Teen Talent Show and came home with the first-place trophy after she sang "All About that Bass" by Meghan Trainor.
What inspired you to perform at Aurora Public Library Teen Talent Show?
Whatever I've done has always been at home. I've never gotten the chance to go out and show people what I can do.  I think I really just wanted to put myself out there and get out my comfort zone, so I tried it.
How long would you say you practiced overall for the performance?
For this event in particular, I didn't get a lot of time to practice. I was out of the country for summer break, so I came back and I had eight days before the actual show; during those eight days, I practiced at least one hour every day.
I heard this was your second time performing at this particular talent show, what would you say was different this time around?
         Obviously, because I knew how the show worked, I felt more confident. However, after losing last year; I remembered that the person who won had a positive attitude about her. When she performed, she drew the audience in; when I performed I wasn't connecting with the audience. I basically learned to be more inclusive and interactive with the audience.
Did you feel any kind of pressure when you were in front of so many people?
        There's always that kind of stage fright that everyone has, but when you're on stage, the lights are so bright that you can't even really make out the audience. When I was up on stage, I didn't really think about the audience, but ratheR how I'm going to perform my song.
Do you do anything musical outside of singing?
                       I have played the piano for four years and still continue to play now. I take lessons regularly.
Is there any background in singing within your family that really inspired you?
Yeah, my mom and dad both sing, so growing up it was always just me listening to them. I know my mom encouraged me to sing; the first song that I learned was somewhere over the rainbow when I was seven.
Would you pursue singing as a career?
        I was thinking of minoring in music. Although for my major, I was thinking about mathematics because I want to go into data science.
How do you think singing and music have overall impacted your life?
                       It's always been a big part of my life; I've made so many friends along the way and music is also such a great way to express yourself. So, when I feel down I always listen or sing music. I've even tried writing my own music and overall it's a good way to let go of inner stress and negative feelings.
View Comments (2)