Brittany and Maddie take on: Basement of the Dead
As Halloween approaches, many teens go out to haunted houses for thrills and a fun time with their friends. In the spirit of all things Halloween, we decided we had to visit at least one haunted house. We started our thrilling adventure at Aurora's very own Basement of the Dead.
The Stampede
How did you feel prior to experiencing the haunted house
Maddie: I haven't been to any true haunted houses prior to the Basement of the Dead, unless you count the ones at Six Flags, but I do love horror movies and everything scary so I wasn't too scared going into it. I heard from a few friends about Basement of the Dead and they all raved about it so I figured it'd be a pretty great place to start.
Brittany: I love to be scared I've gone to many haunted houses over the past few years. I've gone to Six Flags and Naperville Settlement, and I remember both of them being cool, each surpassing the other. When going to Basement of the Dead, I got really nervous while waiting in the line.  I felt pretty confident at first but the more I waited the more scared I got.
What was it like on the inside?
Maddie: It was actually pretty cool. There were two parts to the haunted house. First, you go into the main house where you go downstairs right off the bat which I thought was different and cool. The actors who worked there were really great and were in character the entire time. The second part was this really cool 3D neon haunted house called Shattered which wasn't scary. It honestly reminded me of something you'd see at Lolla or Coachella.
Brittany: I honestly couldn't really see much of the haunted house because it was so dark inside. They had strobe lights flashing and I was at the front of the group so I could just see things come charging at us and it was pretty scary. But mostly I couldn't really see anything.
The Stampede
What was your favorite part?
Maddie: My favorite part of the first haunted house had to be when the walls literally closed in on you. My other favorite part inside was the atmosphere, with each room there was à new story and adventure that you would have to find your way out of. I won't go too in-depth because I don't want to spoil too much. I also really have to give props to the actors because they were all so great and scary but at the same time approachable.
Brittany: I liked a lot about Basement of the Dead, but I don't think I had a favorite part. I honestly just remember being scared a lot and screaming a lot. At one point this guy was following me and everytime I turned around his creepy face was right there and it made me so scared. He followed me for like a solid minute it was so scary. Overall the whole thing was great I would do it again in a heartbeat!
The Stampede
How scary was it?
Maddie: Honestly, I wasn't really scared which was pretty disappointing. Did I scream? Of course, but when I did scream it was only because of a loud noise or because Brittany screamed, not because of the actors themselves. Besides the fact that I didn't get too scared, I genuinely had a fun time and would recommend people to come out
5 out of 10
Brittany: Unlike Maddie, everything in the world scares me so I thought the Basement of the Dead was really good and scary. I actually got so scared I fell over two times. And one time I literally had to crawl my way out because I was too scared to get up.
8 out of 10
For more information on prices and hours, check out the Basement of the Dead's website
View Comments (1)
About the Contributor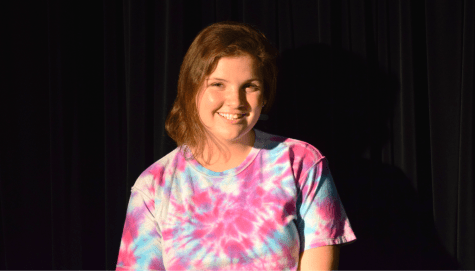 Maddie Crabtree, Metea Media Editor-in-Chief
Maddie Crabtree is a Senior and the Editor-in-Chief of Metea Media. She has been on staff for three years and has a huge passion for all things journalism....