Madrigals hosts annual dinner theater production
Over the weekend, the music department hosted its annual Madrigal dinner which represented the true Renaissance Era. The shows took place on Dec. 14, Dec. 15, and Dec. 16.  The audience had a choice of buying a ticket which included a 3-course meal introducing dishes from the late 15th century to the early 17th century.
The auditorium stage was transformed to replicate a medieval castle and the cast was dressed in authentic and colorful Renaissance costumes. The production featured a cast of over 40 madrigal singers and two jesters. Musical groups included Metea's Royal Brass Ensemble, Recorder Ensemble, and String Ensemble.
"The Madrigal group tries to bring alive the Renaissance in the setting of the Christmas story," Madrigal director Paulette Boddy explained.
Another aspect of the show was the unique interaction between the audience and the performers. The jesters go around and mingle with the guests, and the cast is encouraged to make lots of eye contact while singing.
"One of my favorite things is during the first mingling period. The king, queen, and prince go around to every table and give a crown to everyone who looks 12 or younger, even some high schoolers," senior Hannah Roen said.
During the show, the cast had some great bonding experiences. From the long practices, to the experience of it all, students spend most of their time with each other.
"The long practices were difficult, but helped with bonding as a cast. Especially tech week, where we stayed at school till 9. I got to sing and become close with people I didn't even know prior and it's something that I'll always cherish," junior Anisha Deb said.  
About the Contributor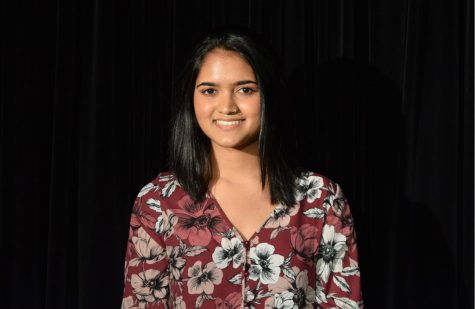 Juthi Saha, Profiles Editor
Juthi is currently a senior and is entering her second year of newspaper as The Stampede's profiles editor. She loves to sing, travel the world, and...