Super Bowl halftime show continues to create controversy
During the Super Bowl, the halftime show is something most viewers watch and pay attention to aside from the game. This year, singer-songwriter Justin Timberlake performed old hit songs such as "Suit & Tie" and "Cry Me a River" and songs from his newest album such as "Man of the Woods" and "Filthy."
One important moment during the performance was when Timberlake performed a cover of Prince's "I Would Die 4 U" in which Timberlake sang while simultaneously having a projection of Prince performing that song. Some viewers thought it was a tribute to the deceased legend, Prince. However, others took this as a chance to lash out on Timberlake's performance on Twitter.
It can be seen as a tribute for Prince since Timberlake intended to honor Prince's hometown of Minneapolis, Minnesota, which was where Super Bowl LII was located this year, and additionally receiving validation from other popular figures such as Nick Jonas and Jimmy Fallon.
"I think that it was a tribute so it should no be taken as disrespectful. The meaning behind the performance was to tribute prince in his home city. The motives weren't bad," junior Samaya Danthurthy said.
However, this performance can also be seen in a negative way because Prince has said in an interview beforehand that he was against digital projections, and that they were "the most demonic thing imaginable."
"I don't think it lived up to any expectation, especially since it was supposed to replace Prince," sophomore Ashrita Gottumukkula said.
As CNN reported, there was speculation that Timberlake was expected to use a hologram. However after Prince's ex, Sheila E., and his brother, Omarr Baker objected the use of a hologram, the plan was scrapped and Timberlake stuck to a floating sheet displaying a video of Prince.
"I honestly thought it wasn't a tribute, but I wouldn't say it was a disgrace. I don't think Justin Timberlake was the right person to do the song justice, so it felt lacking and empty. I think his tribute was a waste of time nobody asked for," junior Veda Kedarisetti said.
This year undoubtedly sparked both a negative and a positive response from the public. However, Justin Timberlake's intentions for the performance was not meant to disgrace the late Purple One.
About the Contributor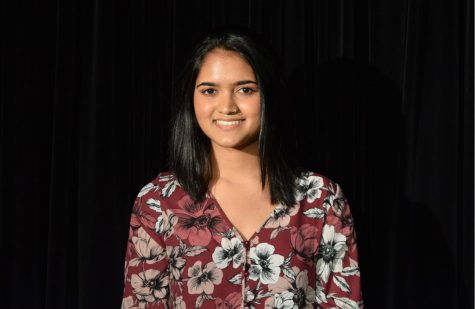 Juthi Saha, Profiles Editor
Juthi is currently a senior and is entering her second year of newspaper as The Stampede's profiles editor. She loves to sing, travel the world, and...