Revisiting Wes Anderson's eight feature films
Hang on for a minute...we're trying to find some more stories you might like.
With the director's ninth feature film "Isle of Dogs" opening wide in theaters soon, I thought it would be customary to revisit Wes Anderson's distinct and stylish filmography. His flashiness and style are unique to the class of directors making films today. His expertise in his field is shown through the scripts he writes, the actors he directs, and the camera he moves. Wes Anderson movies are a pick-me-up and a perfect escape in times like these.
Bottle Rocket (1996)
Wes Anderson's first feature film is sneakily his most quotable. Co-Writer and star Owen Wilson delivers one of his first and best performances as the criminal man-child Dignan. It is great to see Anderson's style blossom. As well as an underrated heist film, the movie is visually interesting, the way the characters move from the foreground and background enhances the dialogue and characters. While it had the smallest budget of any Anderson flick, it holds a candle to the rest of his bigger budget films.
Rushmore (1998)
Rushmore is a solid second film for Anderson. The story of an extracurricular legend at Rushmore Academy, Max Fischer (Jason Schwartzman), and his relationships with teacher Ms. Cross and rich industrialist Herman Blume (Bill Murray). Max and Herman both fall in love with Ms. Cross and the film documents a year of their jealous antics. The film bloomed a new working relationship with Murray and Anderson, who would go on to work together in just about every Anderson film.
The Royal Tenenbaums (2001)
The Royal Tenenbaums is one of the overlooked movies in Wes Anderson's career. There is a great cast ensemble that includes Gene Hackman, Ben Stiller, Luke Wilson, Gwyneth Paltrow, and Anjelica Huston. They make up the Tenenbaums, a separated family who grew up as child prodigies. Royal (Hackman), is the father who was separated from his wife (Huston). As the whole family is brought back together, skeletons in the closet come back. There is love, jealousy, depression, and more rich and interesting takes on family life. I find it to be one of the most emotionally packed Anderson movies that also has the most well-written characters. It is an iconic movie that's complex characters invite you into their worlds with open arms.
The Life Aquatic with Steve Zissou (2004)
This is one that I have seen so many times and I can take something different away every time. There is a lot going on in this movie: a lost father-son connection, a failing marriage, a failing career, grief, and the pity you take upon yourself when you realize you don't have "it" anymore. Bill Murray takes a dramatic lead in one of his best career performances as a leader of a nature society that films documentaries around the world. His best friend is eaten by a special species of shark and he goes out to find the shark. Not only does the story contain the Anderson-type quirks we have come to love, but the visuals hold up well. The set of the Belafonte is a massive structure of a boat cut in half. A drawing of that exact thing inspired Anderson for the whole movie. The cult classic houses some of the best images in all of Wes Anderson's filmography.
The Darjeeling Limited (2007)
The Darjeeling Limited came out to mixed reviews. The tale of three brothers Francis (Owen Wilson), Peter (Adrien Brody), and Jack (Jason Schwartzman), on a spiritual journey through India one year after the death of their father. The brothers had grown far apart over the past year. They deal with relationship issues, and all have holes left in themselves in absence of their father. For example, Francis is recovering from a car accident and realizes he does not want to lose his brothers too. They set off on a train across India that they are promptly kicked off of. The brothers reveal through themselves and the strangers they meet truths about their lives. Not the most exciting Wes Anderson movie but it includes one of the most personal stories of grief and family.
Fantastic Mr. Fox (2009)
2009 was the introduction to stop-motion animation for Wes Anderson. Based on the book by Roald Dahl, Fantastic Mr. Fox depicts the heists and escapes of Mr. Fox (voiced by George Clooney). Fox has put the farm robbing life behind him for years after he had his son. Once he moves to a big tree right across from three of the biggest farms, he cannot stop himself from getting sucked back in. The stop-motion let Anderson exhibit his evergrowing style on an entirely new scale. The voice cast was wonderful and exactly what you would expect for a Wes Anderson movie. Clooney was joined by Anderson-regulars Bill Murray, Jason Schwartzman, and Owen Wilson. As well as acclaimed actors and actresses like Meryl Streep and Willem Dafoe. Anderson himself even appears as the voice of Weasel. The movie shows the flexibility of Wes as a creator, and as a storyteller. In a well-adapted screenplay that reveals more than you would think.
Moonrise Kingdom (2012)
For the first time in this article, I am going to talk bad about a Wes Anderson movie. Moonrise Kingdom is the tale of an island where an escaped khaki scout meets up with a pen pal lover girl who lives on the other side. The film documents young love and the chase two find the two, who run off from their respective authority. Bill Murray plays another sad old man but this time less effectively. There was a lot of rosy dialogue that fell flat throughout the movie. The film is stylish just to be stylish, its themes are less prominent than other Anderson flicks, a couple of lines just make zero sense. This is a very unpopular opinion and the only Wes Anderson movie I just do not like.
The Grand Budapest Hotel (2014)
"Well, who wouldn't – at the Grand Budapest sir. It's an institution." The Grand Budapest Hotel is often called Anderson's finest work. The biggest combination of all his traits that embodies everything he stands for. I love The Grand Budapest Hotel, it's the movie you put on to relieve a headache. It's humorous and engaging, it has love stories, prison escapes, train adventures, and heists. I highly recommend this movie for Ralph Fiennes as the arrogant Monsieur Gustave H. alone. It also has Saoirse Ronan, who is lovely in everything she does.
"Isle of Dogs" comes out wide on April 13th, but theaters near you are showing it as early as today.
About the Contributor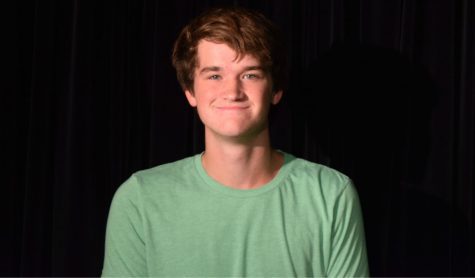 Nate Burleyson, Sports Editor
Nate Burleyson is the Sports Editor and the local blog boy of Meteamedia.org. He is commonly found writing, watching movies, or napping. You can follow...