'My Dear Melancholy' reveals The Weeknd's biggest flaw
Hang on for a minute...we're trying to find some more stories you might like.
The Weeknd released a six-track EP on Friday, March 30. The artist hinted it through his Instagram not long before. It has been well received by old-school Weeknd fans (depending on how far the term 'old-school' can stretch). He returns to his sound found on his older albums like 2012's 'Trilogy.' Although, the album does show a glaring problem in his artistry; he is not interesting.
The Weeknd is a very safe artist. His R&B tunes always sound good. Its production is tight and his voice flows well with it. But tonically he fails to differentiate himself from song to song, or album to album. Especially on 'My Dear Melancholy.' The EP feels like a twenty-one-minute track, alongside lyrics that fail to go deeper than your average breakup music.
'Call Out My Name' opens the EP with a ballad of his failed romance. He feels betrayed by his ex who we can assume to be Selena Gomez. It is easy to understand the pain The Weeknd is feeling on this track. The simple lyrics tell his story of heartbreak.nIt is just so jarring and boring to listen too that the lyrics fade in with the beat. The production is solid but it fails to add anything special.
Twitter took full attention to 'Melancholy' and viral tweets came out in the general formula of "When The Weeknd said ________ I felt that." These tweets were not a bad thing, there is without a doubt simple empathy in The Weeknd's music. Yet, there is not a single complex emotion expressed on the EP.
The problem with The Weeknd is not what he stands for; It is a problem of simplicity. The epitome of this issue is exploited on 'Wasted Times' the third song and the most sonically interesting song. A radio friendly and poppy beat is played over The Weeknd's lyrics that whine about how "these girls only want you when you're winnin'." We have to ask ourselves, does anybody need this? Is this new or important? No.
It is not hard to listen to The Weeknd and I do not think he hurts the R&B genre. But is he anything better than the average? He does not feel essential to the culture at all. This EP, in particular, is nothing that we have not heard before, yet 'Call Out My Name' is number one on Spotify now.
The Weeknd makes music for the 'Fifty Shades' series which is a perfect fit. A series or an idea that makes it's fans feel interesting just for consuming it. 'My Dear Melancholy' is a sort of proof that The Weeknd is just not important.
About the Contributors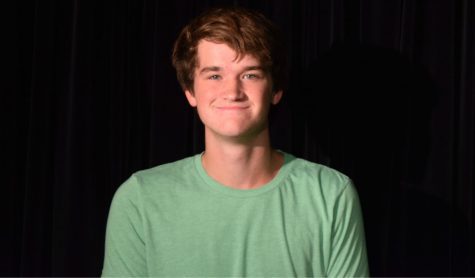 Nate Burleyson, Sports Editor
Nate Burleyson is the Sports Editor and the local blog boy of Meteamedia.org. He is commonly found writing, watching movies, or napping. You can follow...