The Lightning Thief: The Percy Jackson Musical starts its national tour in Chicago
"The Lightning Thief: The Percy Jackson Musical" is set to start its long-awaited national tour with the first set of performances taking place in Chicago. The musical is directed by Stephen Brackett, featuring music and lyrics by Rob Rokicki and a book by Joe Tracz. Brackett and Tracz are best known for their work on the upcoming Broadway musical "Be More Chill", which has become a cult classic for many young theatre fans.
The musical is based on the best selling young adult novel of the same name, written by Rick Riordan. It later became a popular series of novels called "Percy Jackson & the Olympians".  A film franchise from the early 2010s spawned two movies based on the series.
The story is about a twelve-year-old boy named Percy Jackson. Percy is a troubled kid who suffers from Dyslexia, ADHD has gone through six schools in six years, and feels like he does not belong. Eventually, he discovers that he is a demigod and the son of Poseidon, Greek god of the sea. Percy is taken to Camp Half-Blood, a summer camp for demigods like him, to be safe and work on his powers. Along with his friends Grover Underwood and Annabeth Chase, Percy goes on a quest to retrieve the lightning bolt of Zeus in order to prevent a war between the gods. The result is an action-packed adventure full of bizarre creatures and upbeat songs that will intrigue all audiences.
"The Lightning Thief" made its original premiere in 2017 on the New York Off-Broadway stage at the Lucille Lortel Theatre. The musical had a limited run that went from March 23 to May 6. The show's premiere received positive reviews and was nominated for three Drama Desk Awards. These included Outstanding Musical, Outstanding Book of a Musical for Joe Tracz, and Outstanding Featured Actor in a Musical for George Salazar, who played the role of Grover and Mr. D in the NYC production. This version of the show also produced a cast recording, which is available on iTunes and Spotify.
The national touring production of the show will feature many returning cast members from the original NYC production,  including Chris McCarrell as Percy and Kristin Stokes as Annabeth, in addition to Sarah Beth Pfeifer as Mrs. Dodds and James Hayden Rodriguez as Luke. The show will also feature new cast members, including Jorrel Javier, Ryan Knowles, and Jalynn Steele.
The cast and crew guarantee a fun show that is sure to leave a smile on the face of all demographics that come to see it. They also hope for it to be impactful for high school students. According to cast member James Hayden Rodriguez, who plays the role of Luke and many others, "There really is such a beautiful message in this show. Percy struggles to go to all of these schools and getting kicked out [of the schools]. He has Dyslexia, and he has ADHD, and he thinks he's stupid and slow… [but] there's this really beautiful song where his mother, Sally…says to him that it's the things that actually make you different that makes you strong, and that becomes an ongoing theme in the show where he has to look at himself, recognize those weaknesses and turn them into strengths… that's the message that I think everyone will come away with from this show…how to find the confidence within themselves. Maybe you think you're not smart, or maybe you think you're not athletic… when you're that age you have a million insecurities, but to be able to recognize those and turn them into strengths is incredibly positive and that's the big message of the show and something I hope everyone walks away with."
"The Lightning Thief: A Percy Jackson Musical" will play in Chicago for a limited engagement from January 8 to January 13 at the Oriental Theatre.
Loading ...
About the Contributor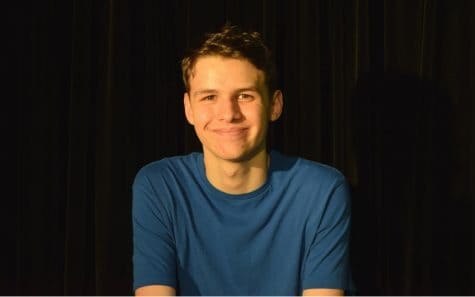 Ben Weiss, Perspectives Editor
Ben Weiss is a senior perspectives editor and writer. It will be his second and last year on The Stampede. Other activities he's involved in include...