Stampede Staff Playlist: December Edition
As finals approach, so does Winter Break and hours of free time. Need some new music perfect for the holiday season? Here are ten of the Stampede staff's December favorites.
Avani Shah (Headlines Editor):
Sincerity is Scary – The 1975
Sincerity is Scary is the fourth single from the 1975's third studio album "A Brief Inquiry into Online Relationships," and is one of my favorite tracks. It's almost the 1975's version of a Christmas carol with its blooming trumpet and piano intro, and the gospel vocals backing frontman Matty Healy in the chorus. It's a mellow tune perfect for winter chill and dreading the end of break.
Permutations – Lo-Fang
This song is the kind of song I'd listen to on a long car ride while contemplating my life. Lo-Fang's wispy voice and the synth sounds build a bittersweet and hopeful voice, like a promise of spring still tucked behind winter. Maybe it's too early to be thinking about spring, but the reflective lyrics and uplifting instrumentals sure have me hoping it'll be here soon.
Kennedy Homan (Graphics Editor):
Baby It's Cold Outside – Dean Martin and Martina McBride
This classic song of the holiday season best represents the Chicago cold weather. When it is freezing outside, this song is relatable. No one wants their friend to go outdoors and catch a cold when there's a blizzard. Now, people may say that this song should be banned, but I say it is essential during the cold season. It is a warning, stay indoors, or you'll catch pneumonia. Listen to the man, he knows how to keep others safe.
I Don't Dance – Lucas Grabeel and Corbin Bleu
The best song from the High School Musical trilogy, I Don't Dance, is a love duet between Ryan and Chad. Not only does this song have a catchy beat and great melody, but it includes a self-contained story. Audience members declare that the best baseball scene in cinematic history was in Twilight, but I contest it with this addition in High School Musical 2. This song takes a rather basic sports scene and enhances it to the max. I Don't Dance is something everyone should be dancing to.
Abbey Malbon (Spotlight Editor):
Eventually – Tame Impala
"Eventually" off of Tame Impala's 2015 album, "Currents" is one of those songs that never gets old. After seeing Tame Impala live at this past summer's Pitch Fork Music Festival, I revisited the album and listened to it more in-depth. "Eventually" is a song you can listen to when experiencing any type of feeling and just like any Tame Impala song, it makes you want to dance like you are a teenager at Woodstock.
Helicon 1 -Mogwai
One of my friends recently recommended this song, and I am obsessed with it. This production style instrumental song is off of the soundtrack for the movie "Beautiful Boy." The song has a slow start but gradually builds up to reveal a beautiful sound. It is one of the most peaceful songs I have heard in a while, and I recommend it for car rides and right before you fall asleep.
Ben Weiss (Perspectives Editor):
Seasons of Love – Rent by Johnathan Larson
Rent is basically a Christmas musical as most of it takes place on Christmas Eve. Because nothing screams Christmas like AIDS, drugs, sex, LGBTQ issues, and poverty. Trust me, it makes sense once you have seen the show. Seasons of Love, which opens up the second act, is a soulful gospel piece where all the major characters come together to sing about the importance of our time on earth and what it all truly means. It comes to the conclusion that the love we give to others and the relationships we build are what truly drives us to succeed and makes life something worth living. The lyrics are simple yet symbolically poignant, with a catchy musical structure that evokes an array of powerful emotions. It is easily one of the most powerful and crowd-pleasing numbers of the show.
The First Noël – Josh Groban (with Faith Hill)
Josh Groban is my personal musical idol. His voice is one of the most beautiful of this generation and I love listening to him perform. This slow pop ballad cover of The First Noël, with additional vocals from Faith Hill, is a beautiful and powerful rendition of the classic Christmas song. It is made only all the more powerful through an angelic gospel choir and instrumentals that go from soft and reflective, to loud and emotional. This is only made all the more powerful through the magnificent vocals of Josh Groban, who injects emotion and beauty into every lyric while getting across true emotion. Plus, the addition of the pop vocals of Faith Hill is not a bad thing either. It is a must listen for any potential Christmas playlist.
Noelle Pryor (Photographer):
I Am the Grinch – Tyler, The Creator
This song…is very good. And it makes me angry. The Grinch looked pretty crappy and I had no interest in seeing it, but then I heard that Tyler was going to be in the soundtrack and now I'm actually considering it. Pretty gross. Tyler has always had a very musical ear and you can hear it in this song, it has various layers and sounds throughout it. I can note things like crescendos, band instruments, orchestral instruments. It's a very well made song and I've had it on repeat for a while. Just stating again that how good this song is makes me angry.
Massage Situation – Flying Lotus
I found this song years ago, not sure how. It's pretty calming and like my other song, I enjoy how many layers of sounds it has. There's not really vocals in it, so I can't talk about meaningful lyrics or anything. It's simply a good song with a cool vibe.
Leave a Comment
About the Contributor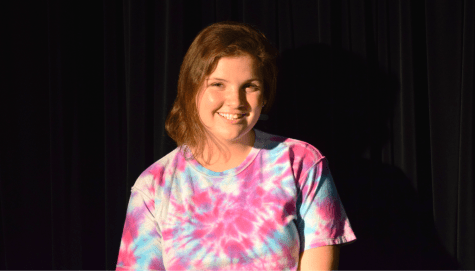 Maddie Crabtree, Metea Media Editor-in-Chief
Maddie Crabtree is a Senior and the Editor-in-Chief of Metea Media. She has been on staff for three years and has a huge passion for all things journalism....