Weekly Sports Update 1/7 – 1/12
Girls' Basketball (Leland Pan)
The Mustangs started off their week playing against Naperville Central High School last Tuesday. The girls fell short with a total score of Metea 36, Naperville Central 45. Thursday the Mustangs played against Naperville North but came to a loss 37-28. Things, however, looked up on Saturday against Plainfield East. The girls fought their way to a close game Metea 49-41. The Mustangs play an away game on Tuesday. They tip off against Oswego East High School at 6:30 p.m.
Boys' Basketball (Nate Burleyson)
The varsity team lost to Oswego East last Tuesday 82-73. They also lost 53-47 to Waubonsie on Friday. This week they face Waukegan at home tomorrow night and travel to play Downers Grove South on Thursday.
Hockey (Nate Burleyson)
The Hockey team played Hinsdale Central last Friday and won 4-3 in a shootout. On Sunday they fell 5-3 against Naperville North.
Wrestling (Nate Burleyson)
The wrestling team competed against Waubonsie and Neuqua last weekend and will face Neuqua this Friday.
Boys Swim and Dive (Leland Pan)
The Mustangs on Thursday night swam against Naperville North at home. Saturday the boys went on to compete in the Titan Relays at Glenbrook South High School. Swimmers Cavour, Reid, Gamilla, and Kastan placed 3rd in the 200 breaststroke relay. Leslie, Lopez, Henkle, and Wang placed 2nd in the 200 medley relay. Gamilla, Reid, Vosmik, and Mendes placed 3rd in the 200 sophomore relay. Lopez, Henkle, Leslie, and Wang placed 2nd in the freshmen 400 freestyle relay. Swimmer George Wang placed 6th in the 100 freestyle skins. 400 free varsity relay swam by Leslie, Martinson, Kastan, and Wang placed 4th to end things on a high note. The Mustangs host a Senior Night against Neuqua Valley at 4:30. The following two days is the Downers Grove North Trojan Invite Saturday at 10 a.m.
Bowling (Madison McCalley)
The Mustangs has several matches last week. On Monday, the Mustangs played a match against Romeoville. Varsity fell against Romeoville. On Tuesday, they played a match against Lake Park and fell but the Mustangs got the highest pin total so far this year. On Wednesday, the Mustangs took on Oswego East. The Mustangs got a new high total: 982. Junior Alissa Raboine got a new high of 216. On Thursday, the Mustangs played Neuqua. The Mustangs worked hard and took a win against Neuqua. Senior Niya Blowe shot over 600 and Junior Alicia Anton shot 594. Their next match is this Thursday at Parkside Lanes.
Gymnastics (Madison McCalley)
Last week, the Mustangs had senior night at Neuqua on Thursday and they competed against Naperville Central. Varsity scored 134.05, which was their new team high. On Saturday, the Mustangs had another meet at Neuqua and they competed against Neuqua. Varsity scored 131.05. Their next meet is this Thursday at Naperville North.
Cheerleading (Madison McCalley)
This past week, the Mustangs had a competition at the Oak Forest Invite. Varsity placed 4th in the competition. This week, the Mustangs have conference at Neuqua on Tuesday.
Leave a Comment
About the Contributors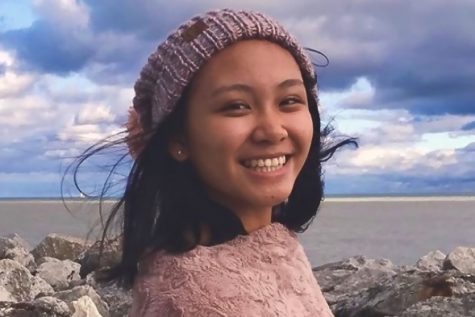 Leland Pan
Leland is the Editor-in-Chief of Metea Media. She was a sports Reporter her sophomore year and the sports Editor in her junior year. After spending two...