Largest U.S. cigarette provider Altria places stake in "anti-tobacco" company Juul
It all started with a cause to help cigarette smokers end what people deem an outdated habit, but what CNBC calls the "e-cigarette empire" that is JUUL has now compromised this grand mission. As of Dec. 2018, Altria has been reaping the benefits of a 12.8 billion dollar investment in JUUL, which counterintuitively sells vaporizer products, unlike those distributed by the largest tobacco company in America.
According to a Truth Initiative survey, around 1 in 5 middle and high schoolers have witnessed the use of the conventional JUUL vape pen on school property. The same ratio goes for high school students who actually used e-cigs in 2018- associated with a 78% increase in usage among the demographic as stated by U.S. Centers for Disease Control and Prevention. While the vape company has brought on a substantial decline in smoking rates, it is concerning to see that this new epidemic has presented JUUL with legal cases regarding underage vaping, health concerns, and obvious scrutiny as to what exactly the company does and does not support in the world of drugs.
Healthwise, there is a great comparison to be drawn between JUUL devices and tobacco cigarettes. Many critics argue that water vapor should not be taken into one's lungs in the first place, but also disapprove of the devices' heightened nicotine content when compared to the average cigarette. Reportedly, a single Juul Pod contains around 200 puffs, and supposing users smoke a pod a week, that accounts for approximately 100 cigarettes in a span of five weeks.
Regarding its effects on the lungs, vaping may enable bacteria that cause pneumonia to invade the airways even though its contained compounds are less likely to cause lung cancer than tobacco substances. It is not the nicotine within cigarettes that causes disease, but the tar within the tube that carries the chemical. In JUULS, it is contained within the chemical flavoring and certain additives for which definitive research is not provided that it contains any substances to be wary of. However, the 2016 General Surgeon's report suggests that because the Juul Pod has a higher nicotine content than most e-cigarettes, the addictive drug could interfere with the brain development of an adolescent.
So while the conventional JUUL pen seems not to present nearly any of the side effects of cigarettes- and JUUL has set forth to ensure such for cig-addicts, people are questioning why the vape company would partner with the distributor of the best-selling cigarette. Smoking rates seem to have met a rapid decline, decreasing from 28% to 11% in 2015, but according to the same survey, 24% of high schoolers had used e-cigarettes in the 30 days previous to being questioned. The Center and Disease Control Center director Tom Frieden, upon the findings of the study, explains, "Current cigarette smoking is at an all-time low, which is great news. However, it's troubling to see that students are engaging in new risk behaviors, such as using e-cigarettes." Some may even assert that technology has carried this generation's habits from those of cigarette usage to that of many apparatuses which often can achieve similar effects as cigarettes: e-cigarettes, vapes, dab pens, and so on.
Both JUUL and Altria, which owns Phillip Morris, presented that they felt that the business deal was necessary to make. Altria predominantly sells tobacco products alone, but at one point had been investing in e-cigarettes leading up to its great stake. In December of 2018, the company decided to end such investments with the prospect of owning part of JUUL, which found the majority of the market's success. Altria CEO Howard Willard stated, "We are taking significant action to prepare for a future where adult smokers overwhelmingly choose non-combustible products over cigarettes by investing $12.8 billion in Juul, a world leader in switching adult smokers. We have long said that providing adult smokers with superior, satisfying products with the potential to reduce harm is the best way to achieve tobacco harm reduction."
Altria may have avoided potential losses as large numbers of consumers make the switch from tobacco-based products to nicotine products- 8.1% of whom are high schoolers, according to the National Youth Tobacco Survey. Despite the decline in smoking rates for adults as well as ex-cigarette smokers (including minors), 0.5% more high school students are starting to experiment with tobacco. This jump from 2017 to October of 2018 proposes that youths may be merely branching out to different kinds of substances they have never experimented with before. In April of 2018, Illinois senators voted to raise the minimum age for cigarette purchase from 18 to 21 in order to restrict usage by youths, but the vote failed to pass.
The reasons for which Altria invested billions in the company are warranted by switches in the current drug culture as well as profitability, but JUUL seems to be all the less warranted, as it remains vocal about its anti-tobacco initiative. Former smoker and founder of the company Kevin Burns explained, "We understand the controversy and skepticism that comes with affiliation and partnership with the largest tobacco company in the U.S., we were skeptical as well. But over the course of the last several months, we were convinced by actions, not words, that in fact, this partnership could help accelerate our success switching adult smokers."
Meanwhile, anti-tobacco campaign advocates are declaring that there needs to be stricter FDA regulation in order to ensure no lives are lost at the hands of the Altria-Juul deal. The Association took steps to limit sales, forcing Juul to do the same with its mango, fruit, creme, and cucumber-flavored pods. But as the United States government shutdown is currently in its 27th day, it is even being questioned if general food inspections are being administered, let alone those of vapor products.
Until the FDA can take some sort of action to undermine cigarette distribution to a minor, there is no way to confirm that minors will not be vulnerable to the causes of fatal disease and cancer. Juul has already been faced with the responsibility of causing a nationwide epidemic involving vaporizers; now we can only hope it avoids leading more youths to the great danger that is cigarette smoking.  
About the Writer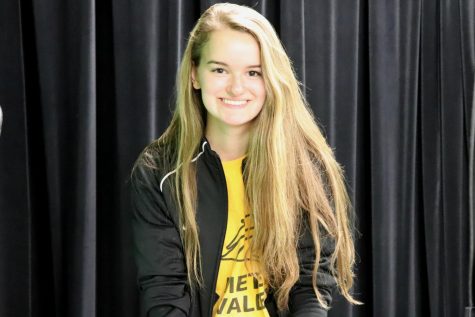 Noelle Smagala, Website and Social Media Editor
Noelle Smagala is a senior, and this is her second year on staff now as social media Editor and website manager of Metea Media. Though she has loved writing...