'Us' Review: Jordan Peele avoids sophomore slump with exhilarating force
Hang on for a minute...we're trying to find some more stories you might like.
Spoiler Free!
When you first start to understand the premise of Us, you are immediately thrust into the mind of director Jordan Peele. Each turn in the story is premeditated. In a movie that's more Hereditary than Get Out, everything that could mean something probably does. The film asks the viewer to watch with great focus. Us is a premise that stems from our deepest fears, fears extending so far down that we don't know we have them until they are right in front of us, threatening us.
Us, Peele's follow up to his 2017 critical and box-office debut Get Out, is triumphant. The premise is around a family of four who travel to a summer vacation home in Santa Cruz, California. Well at the home their vacation becomes interrupted when four exact look-alikes arrive with vengeance in mind. What follows is an enthralling reveal of the situation at hand. The action, suspense, and pacing is edge-of-your-seat exhilaration. A true horror success elevated by the performances of the cast, lead by Lupita Nyong'o (12 Years a Slave and Black Panther).
The cast is tasked with playing themselves twice, an internal conflict of very literal definition. Nyong'o especially excels as the main character. She shines in her depiction of a scared mother, wife, and human. As well as her menacing counterpart. Winston Duke delivers a comedic relief as the father which is perfect for the juxtaposition of the two families. He has a role in the story and although it isn't the grandest it's important.
Everything in the film is tethered together. It's parallelism porn. The screenplay is careful when it reveals the story. It peels back the layers of the film that end up becoming obvious in a "how did I miss that?" kind of way. Peele's auteur-like control of his craft is growing from 2017 and it grew throughout the film. Towards the end, the film feels like it's showing off its ability to create a world that isn't far from our own.
The music in the film is another example of the focus and control the movie had. A menacing score accompanies the film's scariest moments. The use of Luniz's "I Got 5 on it" in multiple scenarios was a wide range of how music can change the feeling of a scene. The soundtrack was ironic in its persistence to shine through during gutwrenching encounters.
Peele is a comedian at heart, at least, it's what he's known for. Using comedy in a horror movie doesn't have much room to wiggle before it becomes Scary Movie. Get Out gave us a little taste of how it's done in Peele's mind, and Us gave us the full load. The movie has no reason to be as funny as it is in some situations. It all just makes the punches hit harder later in the movie.
The social commentary of Get Out is a major part of its success. The buzz around the film kept people invested in its awards season performance. Us does not have as obvious of a message, and it will take some time to settle in your stomach after viewing. It is a film that you probably need to revisit to squeeze out all intended meaning. Although looking at the movie in its own vacuum, the film is exhilarating and fresh. An original screenplay that is wholly original.
This movie is the first real masterpiece of the year. The cinematography is breathtaking, perfect for the subject matter. A plot rooted in philosophical ideas, with a gluttonous amount of food for thought. The acting is powerful and gripping, and the voice is potent throughout. Peele was able to avoid the sophomore slump. One needs to see this on the biggest screen possible, it's look over your shoulder when walking to your car scary. Us is check the locks on your doors when you get home scary. Us is five out of five stars.
About the Contributor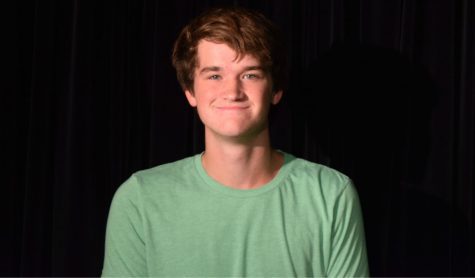 Nate Burleyson, Sports Editor
Nate Burleyson is the Sports Editor and the local blog boy of Meteamedia.org. He is commonly found writing, watching movies, or napping. You can follow...