Audience members are transported back in time for the annual Madrigals feast
The lights dim as a full stage of viewers are taken back in time to a place where people cry over boars, jesters fight over who is the best, and figgy pudding is an actually popular dessert item. This popular event is better known as Madrigals. Metea Mustangs have been prepping music and acting for the past few months in preparation for their shows in December. 
"They're going to hear Christmas carols and songs that they grew up with. And that's something that we love to offer as a tradition to our community members," Madrigals director Paulette Boddy said. 
Attending audience members get a feast of soup, bread, entrees, and dessert. As the viewers feast, the actors walk around the stage and interact. This allows a unique opportunity for comical guest and performer interaction that is unlike most performances in the theater department. 
This is an activity that often becomes a tradition for many members of Metea. They come back every year in preparation for the holiday season.
"There are people that come back every year, in December, because it really ties back to the holiday season," Boddy said. 
Many of the student viewers agreed. The energy of the audience was truly heightened with the intense performer interactions, which left many wanting to return. 
"We will be coming back in the future, we are going to make this a tradition," freshman Gabbie Gudgeon said. 
For first time performers, Madrigals is a really great opportunity to practice musical talents and also become an integral member of the renowned theater department. Although there was a larger cast of about 50 students this year, everyone had an opportunity for their talents to be highlighted, especially the up and coming freshman students. 
"I was really nervous at first, but it is so much fun and I am really excited for next year," freshman Madelyn Schotz said. 
This show was different from those in the past in the sense that there were many returning members and many seniors who would be saying goodbye to their final Magical Feast. 
"There have been a lot of longtime cast members so there's a lot more sentimental mentality," Boddy said. 
As the last weekend for many returning members, it is no surprise that many seniors put in the work to tie together the seasons with this holiday tradition. 
"It went well, the audience was lively and the audience makes the show really," senior Katie Hausman said. 
For any student hoping to view the show in the future and make it a tradition of their own, buy tickets ahead of time and head down to the Metea auditorium during the month of December. 
"I'm really proud of them and I think this is our best opening night," Boddy said. 
About the Contributor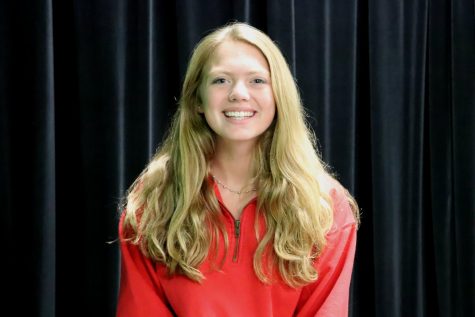 Ayden Reed, Headlines Reporter
Ayden is not very excited to be a senior, but she is extremely excited to be a part of journalism. Despite embarking on her newfound passion for writing,...