Stampede Staff Playlist: April Edition
Daydream by The Aces
Contributed by Katrina Viloria
A wonderful music vibe as we enter into the spring season. This is one song that showcases and gives each instrument time to shine. Drums, guitar, bass, and vocals. I have definitely had my fair share of playing this song at least once every time I drive and yet, I am still not over it since its release. Plus, this is one of my favorite girl group of singers out there!
Sunshine by Trapdoor Social
Contributed by Katrina Viloria
 https://www.youtube.com/watch?v=XQLSCqsvbPg
As I am in quarantine, I attempted to find and discover new music. So, I found Trapdoor Social and I am genuinely liking their music. Although this song was released around 3 years ago, it is still a bop and I am continuing to find more and expand my music tastes.
 All I Want by Olivia Rodrigo
Contributed by Katrina Viloria
Recently, I got Disney+ and I was overwhelmed by everything. Then, I was recommended by so many of my friends to watch "High School Musical: The Musical: The Series" who claimed it was really good. Originally, I thought the series wouldn't live up to the hype the movies had. Until I found myself listening to not only this song and loving it, but the entire soundtrack. This song is actually written by the actress, Olivia Rodrigo, who plays Nini and it is about her stuck between two boys but is working to find herself and realize that self-love is the most important love a person can have.
Truckin' My Blues Away by Blind Boy Fuller 
Contributed by Harrison Linden
This is just a really nice song to listen to. Simple, calming, and passionate in sound. It's got the classic sound of blue that I love about it. It never outstayed its welcome. It's a very nice song for anybody into blues music. 
Businessmen by Logo
Contributed by Harrison Linden
Businessmen is a pretty interesting song. It's one of the first german dance songs I got heavily interested in, but I really love it for its dark and sort of seductive sound. It really grabs you by surprise while also grabbing you closely. It's a very good song for people interested in the electronic and dance genre. 
Todayitsyew by Knxwledge
Contributed by Harrison Linden
Knxwledge has to be the master of making lo-fi rap. His beats are so unique in sound, especially when it comes to his samples. This song in particular has a great sample from a French song called "aujourd'hui c'est toi". This is a great song off Buttrskotch, which is my favorite album by him and a must listen to for rap fans. 
Everybody's Lonely (Social Distancing Version) by Jukebox the Ghost
Contributed by Claire Baffes
Social Distancing put aside, this song is still very good. I'm at a point where I can't pinpoint what makes it good, I just sort of enjoy it. Part of the reason that I chose this version is for the video. If you want to see the actual music video, go ahead, it's very good. But, the idea that Jukebox the Ghost actively coordinated and recorded a version of this song while in social distancing really makes me laugh. I mean, everyone's a little lonely sometimes, but this song puts it in a better perspective.
Main Theme from Animal Crossing: New Horizons
Contributed by Claire Baffes
I grew up playing Animal Crossing with my siblings, so I was very excited about the newest addition to the franchise which came out last month. One of the things I love the most about it is the main theme. It still has the chilled out vibes of the themes that preceded it but include more tropical instruments to fit with the island motif of the game.
 Bored by Tessa Violet
Contributed by Claire Baffes
I really like a lot of things about this song. I really like the lyrics, and much of the instrumentation is good. There's nothing else that I can say, I just really like the song. 
Intertwined by Dodie
Contributed by Amber Corkey
I've been listening to Dodie on repeat recently, and I love how all of her songs have so many perspectives to them. "Intertwined" is about having someone who you can lean on and pour all your bad thoughts into to cope, but it also touches on how that can be unhealthy. This song is so soft and peaceful. It is also really fun to play on the ukulele or guitar. 
Nur Wegen Dir by AnnenMayKantereit
Contributed by Amber Corkey
This is my favorite German song currently; mein lieblingslied. The chorus translates to "I wake up, and I'm happy again, and it is all because of you". Henning May sings about how his dreams and his thoughts may bring him down, but there is someone in his life that makes him happy. I love this song so much, from the lyrics to the vocals. Henning May has such an amazing voice, I can't even begin to explain. The song is such a jam to begin with, and it all comes together so beautifully. 
The Thief and the Moon by Shawn James
Contributed by Amber Corkey
This song was recommended to me by a friend a while ago, and I often come back to Shawn James's because it is so good. "The Thief and the Moon" has an interesting concept with a conversation between the subjects in the title. It is about greed and how it inevitably leaves you with nothing in the end. I love Shawn James's voice, and all of his music has so much meaning, I highly recommend listening to his music.
Leave a Comment
About the Contributor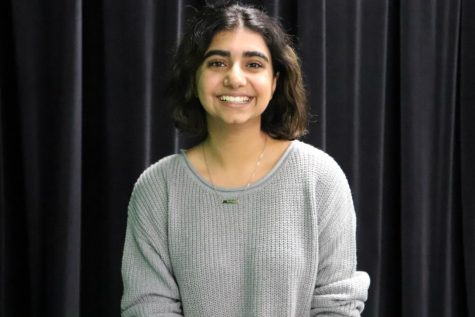 Myra Bajwa, Metea Media Editor-In-Chief
Myra Bajwa is a senior and the Editor-in-Chief of Metea Media. This is her third year on staff, and she is incredibly excited to lead the journalism team....