Bus driver shortages cause students to question school transportation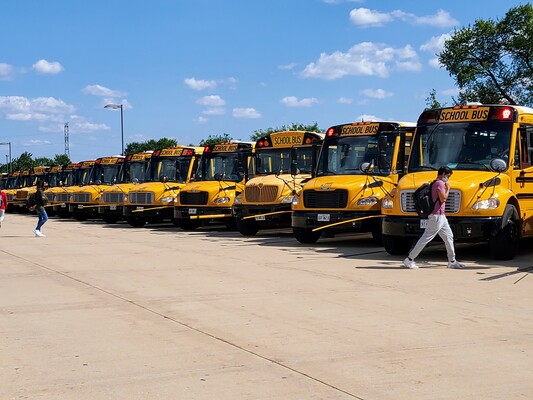 Throughout the COVID-19 pandemic, bus drivers were left without work and turned to search for higher paying jobs. As school has started to return to how it was prior to the pandemic, there have been less drivers returning to their previous jobs. Since the start of the school year, schools all over the country have faced a shortage of bus drivers. There has been a mass resignation of drivers, and students and staff are faced with the question of what forms of transportation are left.  
Along with the decrease of bus drivers, there are also stricter rules on buses due to the COVID-19 pandemic. This year, there is more emphasis on only two students sitting on one seat and ensuring that the students who are on the bus have been assigned to that route. Chicago Public School officials have been forming new strategies to ensure that their students arrive promptly to school, such as picking students up 15 to 30 minutes earlier than their assigned time. 
The news of the bus driver shortage has left some students thankful for having access to school transportation.
"I think it is unfortunate that there is a bus driver shortage," sophomore Madison Mroz said. "But I am also grateful that all of the kids are able to get to where they need to be." 
Ronald Johnson, the Director of Support Operations, oversees transportation throughout District 204. He is in charge of scheduling bus routes and determining the number of bus drivers needed. 
"This school year, we are about 42 drivers short, which is pretty severe for the size of our contract," Johnson said. Each year, there are a certain number of bus drivers needed to accommodate the amount of students who need access to school-provided transportation. Not having this number of bus drivers leaves students without a way to get to school.
While the problem of bus shortages has been an ongoing issue for some time, the COVID-19 pandemic has turned this problem from a small issue to desperate this year. According to The Chicago Tribune, an estimated 2,000 students have been affected by this shortage. 
This issue has become increasingly important and has been getting more attention from district officials and administrators due to the significant percentage of buses not running. 
"You know we are running about ninety six percent, ninety seven percent on time in a severe national driver shortage," Johnson said.
Although bus shortages are an ongoing concern, administrators and district officials are working hard to resolve the problem. Increasing salaries and producing more incentives like bonuses to attract drivers is only the beginning. District officials hope to solve this issue and provide reliable and safe  transportation for all the students in 204.