Taylor Swift releases 'Red (Taylor's Version)' and revitalizes an entire album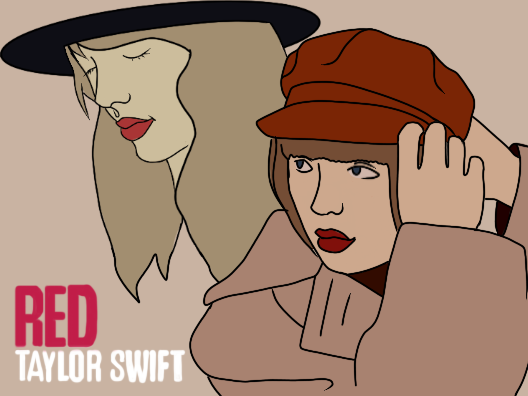 Taylor Swift released her fourth studio album "Red" on Oct. 22, 2012, and after nine years, she re-released it. With this new album comes the original 20 songs and ten additional songs released from "the vault." Some of these songs feature other artists such as Phoebe Bridgers, Chris Stapleton, and an additional song with Ed Sheeran. The album in its final form is two hours long, with the longest song 'All Too Well' being 10 minutes in length. "The vault" refers to songs of Swift's that she personally loves and decided to keep for future albums but sadly never got to see the light of day.
"All Too Well" has been one of both Swift and her fans' most loved songs. The original version is five minutes and 27 seconds and the new album additionally holds a 10 minute version of this song. With the 10 minute version comes a short film, produced by Swift herself. Starring in the film is Sadie Sink, playing "Her" and Dylan O'Brien as "Him." Just when avid Swift listeners thought the song itself could not get any more heartbreaking, this film proved us wrong now that we finally get to see a live portrayal of what the lyrics have spoken to listeners.
When it comes to comparing the new updated album to the original album released in 2012, there is no significant change in Swift's lyrics or the instrumentals in her song. Even though the songs themselves did not change, there is almost this warm feeling inside knowing that this album is finally Swift's and not owned by a separate record company. Swift announced she would be re-recording all her albums in the fight for control over her record label starting in 2020. It is really good to know that Swift is finally gaining control over what should have been hers to begin with. When listening to the new versions of these nostalgic songs, fans are not only getting to experience Swift's growth, but they are also supporting her reclaiming the words that she crafted in such a careful way that allows people all over to relate to them, while also staying true to what she felt.
Swift's first move in the fight for the rights over her music was re-releasing her second album; "Fearless." The new version of that album was the first example of Swift's vocal growth, but nothing could have prepared fans for the emotional turmoil that "Red" would cause. The transition from songs such as "Stay Stay Stay" to "The Last Time" gives the listener a true insight into what being in an unhealthy relationship is like. Enthusiasm and exhilaration quickly turn to apprehension and angst.
The release of this album gave fans a rush of content, ranging from new merch to Swift appearing on "Saturday Night Live." However, the part of "Red" that makes it as truly amazing as it is, are the tracks from "the vault."
After hearing these new songs, one could wonder how they were ever left off the original album. "Nothing New," which features Phoebe Bridgers, perfectly captures the fleeting hope felt throughout the entire record. It is also a stark contrast to the 10 minute version of "All Too Well," which is one of the most notable songs from the updated album. "Nothing New" talks about the feeling of one's youth being sucked away and replacing what was once shiny and new with insignificance and confusion. On the other hand, "All Too Well" shines a light on the feeling of being discarded because of young age.
"Red" is nothing short of being utterly heart-wrenching, while also being extremely inspirational. Listening to Swift's old songs in her current voice gave the feeling of moving forward, rather than being in pain. Hearing her previous lyrics and seeing the place that she is in now is a pure example of ambition. Swift went from a heartbroken 21 year old who felt like the world was against her to a sign of hope and a role model for people throughout the world who can relate to her music, and she was able to bring her fans along with her for the entire journey.