'Peacemaker' is a fun comedy series that highlights a more unknown character in the DC universe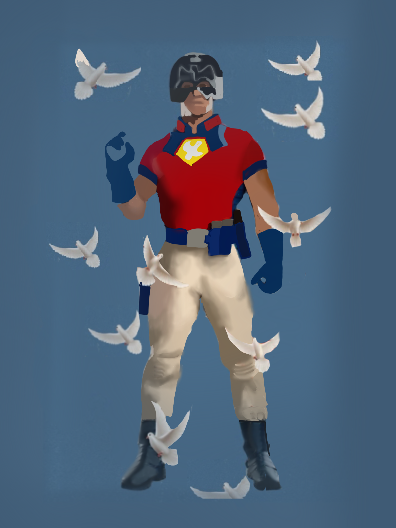 The DC Extended Universe (DCEU) has been rough since it began in 2013 with the introduction of the "Man of Steel" by Zack Snyder. After the success of the Marvel films, DC Comics tried to follow but never had the movies and story that made it stand out, until last year when they released "The Suicide Squad" by James Gunn. "Peacemaker" by James Gunn, a spinoff of "The Suicide Squad," was a series I never expected to enjoy, but it came out to be a very unique and fun journey, unlike any other comic book adaptation.
"Peacemaker" follows the vigilante Peacemaker, portrayed by John Cena, after the events of "The Suicide Squad." Within the first half of the episode, Peacemaker is forced to go on another suicide mission from the government, which he is very fond of, especially right after getting home for the first time in years. With his new crew, they begin Project Butterfly. That is right, Butterfly, such a weird name, but fitting once you find out the truth of the enemies. Throughout the show, more obscured and absurd events happen to our cast of characters that were, at times, comedic, nonsensical, and emotional. 
In Peacemaker's journey, we meet wacky characters that should not work in today's storytelling, but on screen, they add charm. John Cena's performance of Peacemaker was shocking when I first began watching the series. The John Cena I knew was the wrestler on WWE, but the star I saw did an amazing job being Peacemaker. He embodied the strange character with everything he had. He brought the comedy, action, and pain of Peacemaker to the screen in a fabulous way. Peacemaker has gone through so much as a "superhero," and Cena really embodies the character. 
Vigilante, portrayed by Freddie Stroma, is one of my favorite characters. Like in his name Vigilante is a protector of peace who has to kill, but his psychotic and no emotional view on society makes him hilarious and a fun insane character. He strives to be Peacemaker's best friend by being there for him at his best and worst. Vigilante really cares for him. His messed up way of thinking is what does not make him human. He easily kills people without a second thought, which the actor really does well portraying.  
Harcourt, portrayed by Jennifer Holland, was also a great hard cop type of character that made her such a powerful character. She was rougher around the edges than Peacemaker doing what was necessary no matter what. She does what has to be done even if it is tough, but she is willing to take those chances. She is rude to everyone, but it is really just neglecting connections with others. 
An original character, Leota Adebayo, portrayed by Danielle Brooks, was also a member I really enjoyed. She brought the heart out of the group and brought emotion to our crazy cast of characters. She is brand new to this whole black ops job, so when the job has to be done she questions it. She also tries to connect with each person to better understand and learn who they truly are, and not as whole they present themselves.
"Peacemaker" has so many characters, but the main crew we follow all have one thing in common, a state of brokenness. The show has its moments of jokes and action, but all the characters have tragic stories. They all had a bad history in some type of way and throughout the show we get to learn about it. "Peacemaker" had so many characters within it that were crazy like Judomaster and Red Dragon, but every character worked together. Peacemaker contained many characters, but the actors put it all together very well making a comic show unlike any other. 
The creator of the show, James Gunn, brought a different story I never expected HBO to greenlight, but here we are with eight episodes done and a second season on the way. Gunn wrote quirky dialogue that fits the characters and the story he wanted to tell. He wrote all of the episodes and directed five of them. Gunn's style in the show is expressive and comedic at times. Although the cinematography is not as well put together as his other projects, Peacemaker does a great job in showing dramatic action scenes, as well as the emotional ones. For a TV series, it is very impressive looking. A scene I  loved is when Peacemaker encounters his first butterfly. The music, the fighting, and the way the camera is positioned at times make the fight a lot more exciting than it should have been. Gunn's influence is very prominent throughout the show, even in the episodes he did not direct. The other directors did a great job as well. They produced quality just as good as Gunn's and felt like a natural transition throughout the episodes. The style in "Peacemaker" is familiar, yet so different for television and I am here for it.
Like in all of James Gunn's other projects, "Guardians of the Galaxy" films, and "The Suicide Squad," the music is outstanding. The soundtrack is amazing, with James Gunn always finding a way to implement music to a main character in the story that adds to learning about them. Also, Gunn's music taste is unlike any other filmmaker's. Songs like "Do Ya Wanna Taste It" by Wig Wam and "I Don't Love You Anymore" by The Quireboys make scenes exciting and engaging to watch. Any time you are seeing one of Gunn's projects you know you are in for a treat of music. That is just the magic in filmmaking. Like Vigilante says, "there's no wrong time to rock!"
Going into "Peacemaker" I did not expect anything crazy to happen, DC comics material has been a hit or a miss in the past few years, but this show left me wanting more. I give this show an 8.5 out of 10. This show has everything I look forward to when I watch a tv show. 
The action, comedy, emotion, etc. I did not expect a show about Peacemaker of all the DC Comics characters to be this well developed. James Gunn pulled it off. He really made a psycho killer human and a character I wanted to follow for weeks. I can not wait to see where James Gunn takes the character next. I was surprised at how developed this show was with the music, acting and storyline. The DCEU has been struggling, but Gunn is helping bring the DCEU back up with his projects. Currently, James Gunn is working on "Guardians of the Galaxy Vol. 3," but he will soon return to the world of DC with "Peacemaker" season 2.