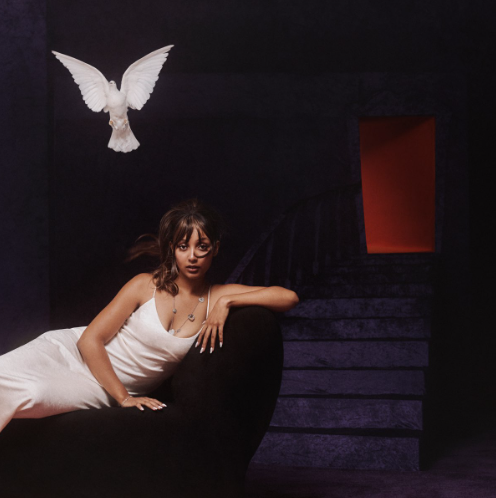 PinkPantheress released her altering debut album, "Heaven Knows" (stylized "Heaven knows") on Nov. 10, which reveals reminiscent rhythm and sounds that divulge her hidden talent. She displays her dreamy music style, which consists of introspection and energetic synths, truly exposing her vulnerability within her music. In "Heaven knows," PinkPantheress expresses simplicity and emotion, expressing themes that can resonate with listeners for years to come. 
PinkPantheress shares a gorgeous album cover. She is resting near a white dove, which typically symbolizes peace, freedom, and love. She looks directly at the viewer while wearing a white dress, giving the viewer a glimpse of what can be expected from the album.  
"Heaven knows" consists of 13 short tracks that establish intricate themes that represent strong sets of emotions. The most notable themes are love, friendship, loss, and life.
"The aisle" conveys a story that revolves around mystery and love. Throughout the song, PinkPantheress prompts listeners to come to a new conclusion, revealing that the true theme of this song is loss. PinkPantheress speaks about unfortunate events, portraying various conflicts between her and the person mentioned within the song. "The aisle" portrays PinkPantheress' talent as a storyteller whilst highlighting the importance of love. PinkPantheress ends this song by letting listeners reflect on how to move on from relationships and friendships.
On Oct. 12, PinkPantheress released her leading single, "Capable of love," as the twelfth track on the album, it closes out before 'Boys a liar Pt. 2', showcasing a drastic tone change between both songs. "Capable of love" represents the emotional connection between one person and another, adding to the theme of forbidden love. 
PinkPantheress illustrates emotional tension in the song by saying:
Right now, I think you're the cause of my grief / And I slept for a week.
PinkPantheress showcases her musical versatility by diving into different genres; PinkPantheress creates her iconic nostalgic sound by switching to '90s R&B in "Mosquito" and "Feelings." "Feelings" creates a heartfelt connection between the fans and the artist through the song. PinkPantheress shares thoughts about mental capacity and emotion through her '90s R&B-inspired music. 
"Feelings" represents restfulness and amenity as the most notable lyric is:
Breath comes out of me / It's my philosophy / It only slows you down / You can't look at me now.
"Feelings" demonstrates how one thinks:  constant thoughts bouncing and running around their head. PinkPantheress shares her opinion on mental health while showcasing her music style, solidifying her spot within the music industry.
"Heaven knows" is only a glimpse of PinkPantheress' potential. With the constant use of nostalgia and the unique blend of different genres, PinkPantheress delivered a phenomenal album that emphasizes much more than just music, revealing her personal growth, vulnerability, and complexity.