Angie's Hope fundraiser creates awareness for SMA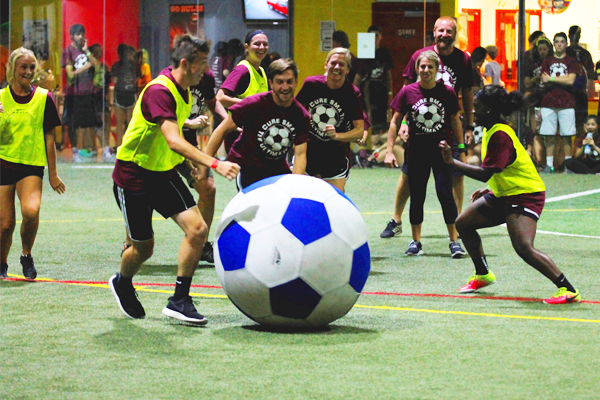 By Megan Arnold
Features Editor
Photo by Jack Heerhold
Saturday, Kyra's Idea blossomed once again into the ninth annual big ball soccer tournament; otherwise known as Angie's Hope. The fundraiser, a part of Cure SMA, included 33 soccer teams made up of high school students, middle school students, and other groups and organizations in the area.
Longtime friend of Angie Lee, Kyra Scadden, came up with the idea of the fundraiser nine years ago as a way for Lee and herself to play soccer together and raise awareness in the community, especially for those, like Lee, affected by the currently incurable disease of spinal muscular atrophy. SMA is a genetic disease that prevents voluntary movement by affecting motor nerve cells in the spinal cord.
"Growing up, soccer was my favorite thing, but it was also something that I sadly couldn't share with (Angie). The idea of finally having the opportunity to enjoy soccer together in a fun and wheelchair accessible way was our main inspiration," Kyra Scadden, of Kyra's Idea, said.
The weeks leading up to the fundraiser were made up of preparation, planning, and ultimately more fundraising. By 4 p.m. Saturday afternoon, Angie's Hope had already raised 71 percent of their $20,000 goal by t-shirt sales and donations.
[quote]Video courtesy of The Mane (Madison Mohns, Isabel Lohman, Rahul Tamta)[/quote]
"Angie's Hope is such an inspiration to people, especially myself, that if you believe in something enough, nothing can hold you back from achieving that. That's exactly what Angie strives to accomplish with her big ball soccer tournament. She believes we will find a cure to SMA and so do I," junior Danny Gierczak said.
At the event, each team plays three soccer games at three of the fields at Players Indoor Sports.
By 9 p.m. Saturday evening, Cure SMA had raised more than $35,000 for their cause. Angie received the best trophy of all: awareness.
Money raised is donated to those affected by the disease.  "Most of it is put towards a cure but we try to help families that are impacted by the disease with support items. Sometimes it's information or sometimes it's medical equipment, things like that," president of Cure SMA Kenneth Hobby said.
Each year, with more light being shed on SMA and more money being put towards the goal of a cure, Angie's Hope becomes another example of one small idea becoming one large impactful reality.
"Nobody is 'disabled' or unable to make a difference. This whole organization started with just an idea; from there it was people jumping on board to help in any way they can who made it grow. Our 'ultimate goal' is for it to keep growing until we find a cure," Angie Lee said.
[quote]Photo gallery by Jack Heerhold[/quote]