Boys' volleyball serves up a win against Waubonsie
The boys' varsity volleyball team played an away game against rival Waubonsie Valley this past Thursday on the Warriors' court. Throughout the night, the Mustangs kept up the hard work and a strong defense against Waubonsie, earning the well-deserved 2-0 win.
"Tonight was a major highlight being able to beat Waubonsie in their own gym. The way we did it was a pretty big highlight," coach John Aister said.
The Mustangs played well in the first set with a continuous and strong lead throughout the entire match, winning the set 25-14. Throughout the second set, the boys were able to keep the score close with a tremendous combination of outstanding offense and defense.
"Throughout the season, we worked really hard as a team. There were some let downs, but we were able to get back up with this win against Waubonsie," senior Brandon Cruz said.
As the second set continued, the game was very intense and well played between the two rivals. As a result, the Mustangs also won the second set against the Warriors, winning 25-18. Juniors Andrew Kohut and Matthew Nealon helped to score most of the points on the court throughout both sets as well as leading the strong offense the boys had.
"I think we have a really good bond with each other, and we've been working really hard together in practice and it shows in these games," Cruz added.
Throughout the whole night, the boys kept control of the pace of the game along with positive mindsets and remarkable effort. To keep up the positivity and effort, the boys received support from other teammates, parents, and coaches on the sidelines.
"They're such a good group of guys, and it's enjoyable to be in the gym. I think whether we win or lose, that's always what we fall back on. We enjoy each other, and we compete with each other and we have each other's backs," Coach Aister said.
View Comments(1)
About the Contributor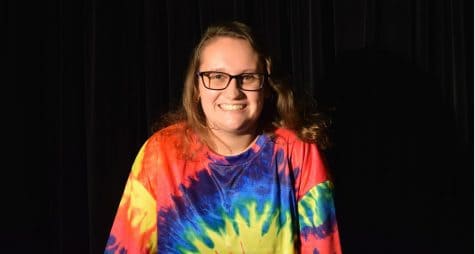 Kellie Foy, Magazine Editor-in-Chief
Kellie is a senior entering her third year of the Stampede. She is the Magazine Editor-in-Chief and has been a sports writer for the past two years. She...