Thomas Kuhn demonstrates his passion of sports through Special Olympics and Unified Soccer.
Hang on for a minute...we're trying to find some more stories you might like.
Photo Courtesy of Chicago Fire
When senior Thomas Kuhn first came to Metea Valley High School as a freshman, he wasn't sure what path he wanted to take to get involved.
    As a lifelong lover of sports, there was no doubt that he wanted to participate in athletics. However, he knew that it would be a challenge due to his cerebral palsy. Instead of facing the pressure of trying out for a team, he chose to participate in Special Olympics, not quite knowing what to expect.
    "I started as a freshman and I went for soccer practice. The coach didn't really know what to do with me, but he put me on the black team and it kind of just took off from there," Kuhn said.
    Fortunately for Kuhn, participating in Special Olympics has given him great highlights as an athlete, as well as a chance to meet others and create new learning opportunities.
    "Nothing really forces me to participate, it's more just my love for sports and all my friends and the people I've met," Kuhn said.
    This past February, Kuhn decided to take a new approach to his skills. Along with several other Special Olympics athletes and peer partners across Chicagoland, he tried out for the Chicago Fire Special Olympics Unified Soccer team. Although the tryouts were very competitive, he ultimately made the final cut.
    In addition to several practices, the team won its two games this summer, both against the New England Revolution Special Olympics Unified Soccer team-the first in Boston followed by a rematch in Chicago. While not competing or practicing, the team got to have different bonding experiences off the field.
    "We got to spend a lot of time with the [Chicago Fire]. We got to travel and eat lunch together," Kuhn stated.
    For Kuhn himself, this not only created lasting memories, but also allowed him to uphold his love of soccer by getting to play alongside other athletes and meet members of the Fire.
    "It's been so cool to see all the people and the places they come from, the comradery and how close we've been together as a team," Kuhn said.
   Entering her inaugural year as head coach of Special Olympics, special education teacher Meghan Manley knows that there has always something special about Thomas, both as an athlete and a student.
   "He applies himself, he's a great team player and it shows which is reflective of his work in Special Olympics," Manley said.
    Unified Soccer will hold its first practice this Monday, September 11 after school. Unified basketball, as well as aquatics, track and field, and bowling will follow throughout the year.
About the Writer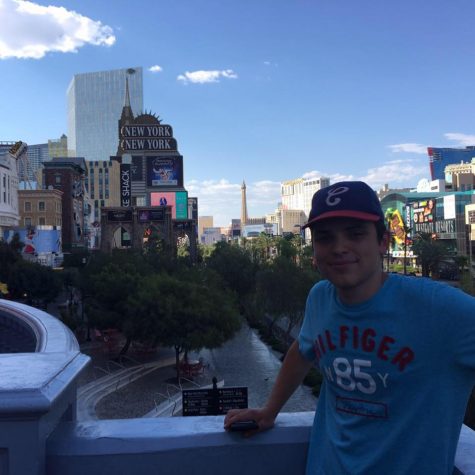 Connor Smith, Spotlight Editor
Connor Smith is a senior and the Stampede's spotlight editor. He is thrilled to return for his second year on staff, as he previously served as sports...